Dot Com Infoway Proud to Be Named on Clutch 1000!
Alfred
Here at Dot Com Infoway, we know how difficult it can be to find a qualified and experienced provider to create your company's mobile app. That's why we're here to help! With over 19 years of top-notch development experience, we know exactly what you need in order to make your software dreams a reality. We're well-versed in iOS, Android, and Windows platforms, and we pride ourselves on the quality, efficiency, and cost of our solutions.

In recognition of our continued success, we've been recently featured as a top mobile app development company on the Clutch top 1000! This is a comprehensive directory of the top B2B service providers, vetted and ranked based on Clutch's verified research! We're number 273 on the list. We're just one out of 147 custom app developers, but the only vendor listed based out of Madurai, India!
We'd like to thank our valuable customers for making this award a reality. They participated in one on one interviews with Clutch analysts, ranking our services on the basis of attention to project timelines, cost-effectiveness, and overall quality. In reflection of those scores we've been ranked a phenomenal 4.9 out of 5-stars! We're so happy to be meeting our customers' needs. Please take a look at a recent review below: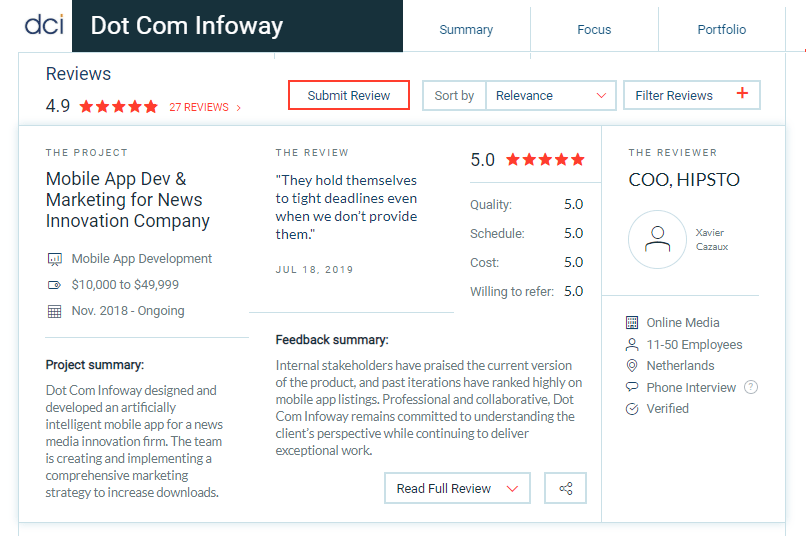 For those unaware, Clutch is a B2B market research firm that utilizes a unique ratings methodology to compare industry frontrunners. We're also featured extensively on Clutch's sister sites, The Manifest and Visual Objects. The Manifest, a business data and how-to site, lists us as one of the best digital marketing agencies. Visual Objects, a portfolio-sharing platform for B2B service providers, praises us a top mobile app development company as well.
Thank you one and all for making this award possible! Please drop us a line today to learn how we can make your software dreams a reality!