Dot Com Infoway's CEO featured in national daily 'The Hindu'
DCI
"Linking up to connect dreams." This headline furnished the cover page of last week's 'Metroplus Weekend' edition of 'The Hindu'. Behind the headline was a young entrepreneur sporting a tongue-in-cheek smile and a cool, casual stance. A tag line, "Net Mate" also dotted the page. The man behind the tag line was none other than our MD and CEO, Mr. C. R. Venkatesh.
Yes! Dot Com Infoway's CEO has been featured in India's most popular national daily, 'The Hindu' in the issue dated, May 15th, 2010. The feature is actually a cover story on our CEO, his personal life, his achievements, his corporate career and his future plans for Dot Com Infoway and its role in the Indian IT industry. On the whole, it is an exciting insight into C. R. Venkatesh, the man and his aspirations.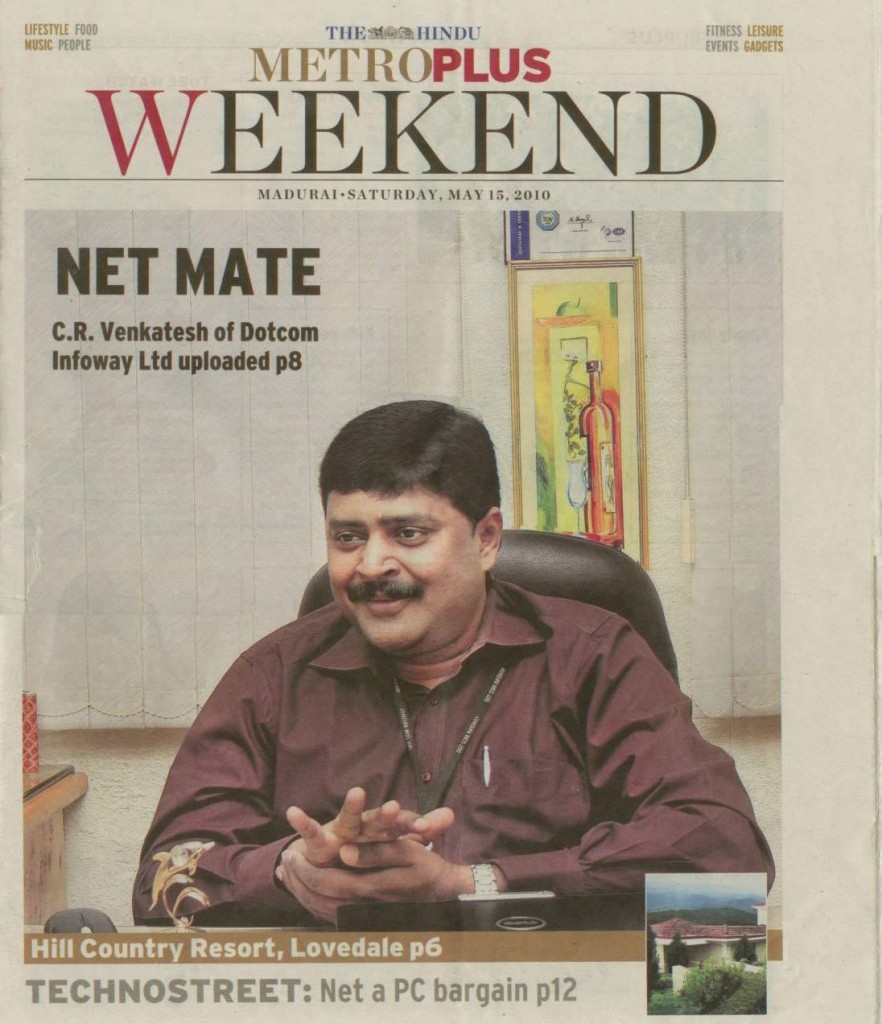 The interview highlights Mr. Venkatesh's climb up the corporate ladder, right from his fledging, 5-employee IT startup 'CRV Infotech' to the 350+ employee IT leader, Dot Com Infoway. The feature lists out DCI's achievements in arenas like software and mobile development, its growth from a small company to a premium player in the industry, including its interesting global initiatives, partnerships and future ventures.
The story also shows a glimpse of the "other side" of CRV (as he is fondly called by friends and colleagues), his passion for the web, for traveling and a whole lot of his interests/hobbies. A line in the article reads, "This Madurai-based IT entrepreneur has an interesting 'other' side too. He is a palmist, dream interpreter, amateur magician, movie buff, Rotarian, ardent blogger, has 800 friends on facebook, another 2,000 follow him on twitter, a travel maniac (has been to 64 countries and 132 cities), a voracious reader (from online magazines to business, economics and trade journals)."
The write-up throws light on everything – from Mr. Venkatesh's social media life, close-knit family life, to spiraling corporate life and popular Rotarian life. What more, his maiden web venture as the "first Internet provider" of the temple town of Madurai, his "most defining moment" in life, the "intimate" relationship he has with his laptop and his enthusiasm to build DCI as a Multi National Company – all these and much more dot the pages of the Hindu feature. In brief, the feature is a remarkable portrayal of Mr. Venkatesh's influential and proactive role in emerging India's corporate scene.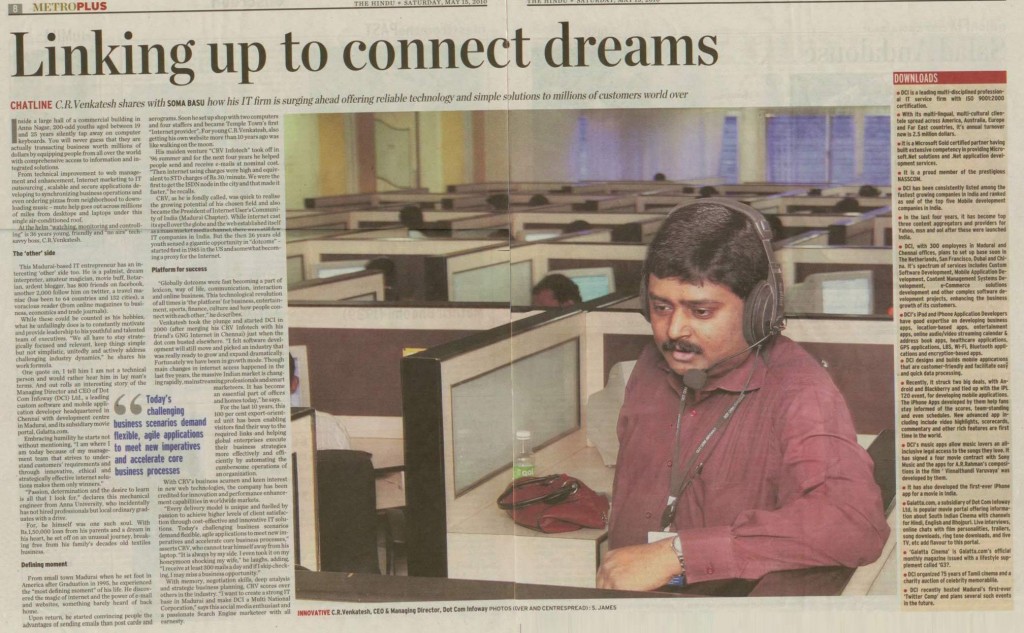 The feature is indeed a must-read for everyone who wants to do breakthrough innovations in the IT industry. Read the web version of The Hindu interview here. You can know more about our CEO in our About Us page on him.