Facebook Deals: A New Way to Shop
DCI
Something new has creeped into the mobile shopping systems and into Facebook. Yes! There's a new giggle on the go as Facebook has brought us a new asset that helps us to do shopping on the go, whether its eating at a restaurant or shopping for a dress or a handbag, going for yoga or fitness classes, booking for a movie or even if it is as simple as going for a cup of coffee. Facebook makes it simple to find the nearest stores or malls that have the requirements you need and to make it even better, they give you rewards in the form of discounts, some stores also give you bigger discounts if you come back with your friends too.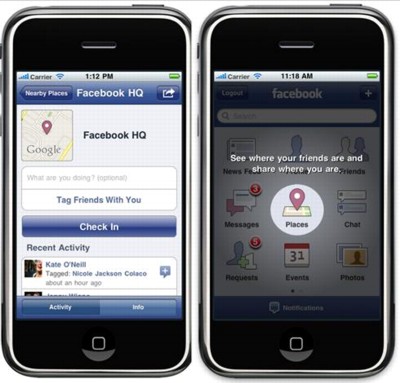 Now that sounds like a pleasurable shopping experience. You spend time with your friends and even save money as you shop. This was recently announced by Facebook in UK where customers who regularly check-in to shops or restaurants through Facebook Places got rewarded with discounts. Looks like this location-based application service could beat other such services like discount sites Groupon.
How do Facebook Deals work? Facebook Deals offer better prices because, for every time you use the service, there are retail partners who have lined themselves up to sign you in for discounts. However, the deals may change from place to place. For example, if there is a 'Buy one, get one free' kind of deal or like a 'fifty percent discount on your coffee' kind of deal and so on, you'll never know unless you try it. The application is actually very easy to use. First, you log onto touch.facebook.com or onto the latest version of Facebook for iPhone, and then you slide your finger on "Places"and select it. Then, "Check In" to denote the stores or places you are in. You can see a few yellow icons with deals. Just by clicking each, you will be able to view the deal available at the store and if you "Check In" you could claim the offer. All you have to do is show this to the cashier and avail the offer.
Though Facebook Deals is yet to take off, the retailers involved in it are a huge number and many more are expected to jump in. Some star retailers include, Starbucks, Yo! Sus, Argos, Debenhams, O2 and Mazda. The deals offered by them are huge too: Starbucks gives away free coffees; Mazda offers five free cars for five months; O2 gives away PS3s; while, Xbox 360s offers discounts only to selective individuals at selective stores and only for those who upgrade their phones this weekend.
Launch Across Europe: UK is the first of Europe's many countries where Facebook will be launching this new application. According to Joanna Shields from Facebook, "Facebook Deals represent the power of word of mouth marketing and personal recommendation. By checking in and taking the deal, this is shown on your news feed, so your friends can also see what deals are taking place. Borders are fading away and a new global social fabric is appearing in front of our lives. Over 200 million people use Facebook on their mobile phone. We are now offering businesses the opportunity to connect with people in an entirely new way."
There are a number of aspects that both you and the people around you could be benefited from the deals on Facebook. There are many deals where you benefit with your friends and charity deals where stores will give out money on your behalf. In other words, it is going to be a whole new experience! Facebook also likes to add that its a whole new platform that they would like to work on and its going to be a lot different from Groupon as they would not be accepting any revenue from the deals.
Dot Com Infoway helps clients market their products/services through cost-effective Internet Marketing and Social Media Marketing solutions. To get a free quote for these services, contact us.