Facebook Dominated the Web in 2011
DCI
Experian Hitwise finds Facebook the most searched term and the most visited website for 2011 in the U.S.
According to Experian Hitwise, Facebook has topped the search terms for the third consecutive year and has accounted for 3.10 percent of all searches, a 46 percent increase from last year. In the top ten search terms, there are four variations of Facebook searches – "facebook," "facebook login," "facebook.com," and "www.facebook.com. The other top search terms include YouTube, Craigslist, Yahoo and eBay.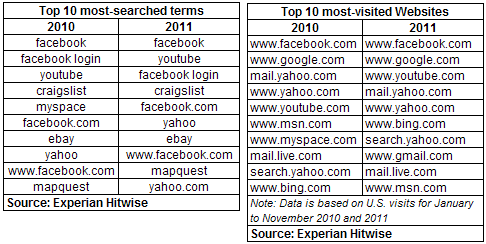 In a press release Experian Hitwise said, "When combined, common search terms for Facebook — e.g., facebook and facebook.com — accounted for 3.48 percent of all searches in the United States among the top 50 terms, which represents a 33 percent increase compared with 2010. YouTube terms accounted for 1.36 percent, representing a 21 percent increase compared with 2010."
Facebook was also the most visited website in the U.S. for the second consecutive year, closely followed by Google, YouTube and Yahoo Mail.
Dot Com Infoway helps clients market their products/services through cost-effective Internet Marketing and Social Media Marketing solutions. To get a free quote for these services, contact us.