Facebook Fan Page Apps That Work
DCI
The latest survey from ComScore says that, 2009 was one of the strong year for Facebook. There are numerous Facebook Fan page apps available but only a few apps will help you to promote your services more easily and exclusively. Here I have explained two facebook apps that really works to improve the popularity of your fan page,
Static FBML
Involver
1. Static FBML
FBML ( Facebook Markup Language) : This is a fantastic app that can be customized as a tab into your Facebook Fan page and you can build any facebook platform application using this app. FBML is a subset to HTML, you can embed the HTML codes into FBML tab and customize it as a new tab in your fan page. It also allows customized tags other than HTML tags. There are various elements that you can embed into the FBML tab like text, image, graphics, links etc.,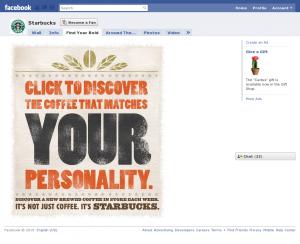 Static Facebook Markup Language
Steps to add FBML tab into your Facebook Fan page
1. Visit the FBML Application page

2. Once you become a fan of the FBML page, you can see the link "Add to My page" at the left navigation
3. A pop up with the list of your pages ( only the pages that you own) will appear and you can select the page for which you need to add static FBML app
4. Now you can move to your Fan page
5. Click the "Edit Page" option and there you can see FBML added to your page. Check the below screenshot

6. Click the Edit link and you can find as found below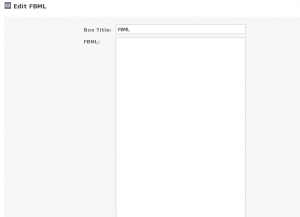 7.After adding the necessary content in Facebook Markup Language, move to your fan page.
8. In your fan page click the "+" button and from the drop down add the customized FBML tab to your pages tab section. Finally the customized tab will look like

9. To add another FBML tab you can click the "Add another FBML Box" present at the end of the "Edit" section of FBML and customize it.

You can add images, graphics, hyperlinks etc on your new tab. This great app is available for free of charge but the only disadvantage is that you should be well versed in coding part for enabling advanced works.
Note: You can check the FBML Developers page to get more details about the languages that FBML supports.
2. Involver
Involver is a social media app that comes with both free and paid apps. There free apps available in Involver are RSS feeds, Twitter, You Tube Channel, Flickr, Photo Gallery, File Sharing, Slides, PDF's and Promotion Gallery. Premium application are more advanced like Social Quiz, poll, Flash embed etc.,

Screenshot of the Twitter App from Involver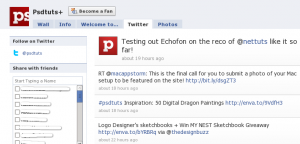 Check the below screenshot of the adidas Originals Fan page You Tube Tab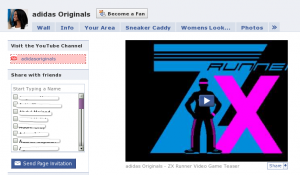 You can check out more applications in the application gallery