Google Buzz Creates a Buzz
DCI
We can notice Google turning more and more social from the updates that are happening day-to-day in Google and its products. Google apart from being the best search engines when compared to Yahoo and Bing, wishes to bring more social features to beat Social networking sites like Facebook and Twitter.
It has become a challenge for Google to meet the real time world. You can see the social update from the Google Team like bringing real time search which includes tweets in search result pages, Social Search, Share icon added in the Google Toolbar, Sidewiki, Google Wave and Google adds another one new feature to the above list. The Google Buzz in your Gmail and Mobile.

Google wave which was announced earlier to Buzz says "Communicate and Collabrate in real time" but many of us cannot understand the usage of Google wave 🙁 That was a reason behind the failure of Google Wave.
Google has announced this feature today. A new way to share and communicate through Gmail. This has not been rolled out for all the Gmail users yet. It connects you with the friends in your Gmail contact and also with the sites you use like Twitter, Picasa, Flickr, Blogspot, Youtube, and Google Reader. And another good news is that Buzz will be available for Business soon.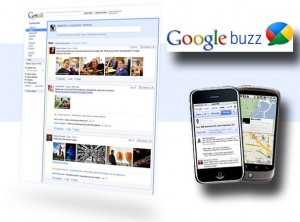 Google Buzz Features
Few Points about the New Buzz
* Buzz tab will be present below the Inbox tab.
* Buzz automatically makes you to follow the people you have in your mail contacts.
* Easy to share photos, videos and links.
* You can share things publicly or privately. Publicly shared items will be indexed by Google immediately.
* Twitter Feature: Just like Twitter it follows the @replies and your public conversation will be made to be viewable by everyone.
*Facebook Feature: When the friend of your friend comments on your friends post, you can follow him on your interest. * Buzz will just suggest you the friends of your friends and its your choice to reject or accept him.
* Unlike Twitter there is no refresh is required for new updates on comments and new posts.
*You get notified in the Inbox regarding the real time comments for your Buzz Conversations
*You can view your public Buzz in your Google Profile
Mobile and Buzz
When it comes to Mobile, location relevancy is going to a play major role as per Buzz. iPhone and Android users can post buzzes as voice message. There is a web app introduced for the iPhone and Android users where you can update their messages live and users present at the same place can watch their views instantly. Geo-tagging feature is also available, so that you are tagged with the place from where you update the buzz. And other phones will get updated with Buzz sooner.
Also Google has announced that it will continuously update Buzz with new features (which is a known thing already)
Will Google Succeed in its step towards making Gmail Social? Take the below poll!
Waiting to check out Big B's Buzz World!
For more information about Buzz check out
Official Google Blogspot
Official Google Mobile Blog
Official Gmail Blog