Google Chrome Becomes World's Most Popular Web Browser
DCI
According to the latest statistics from StatCounter, Google Chrome has overtaken Microsoft's Internet Explorer for an entire week to become the world's most popular Web browser.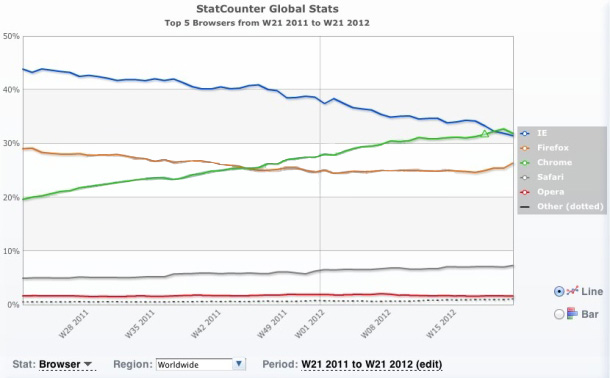 Analytics firm StatCounter compiled data for a week, from May 14th to May 20th of this year. It took into account a sample of 15 billion page views in the company's network. The analysis revealed that Chrome secured a market share of 32.76% while Internet Explorer had 31.94%.

But at the start of this week, Chrome's share decreased slightly and reached 31.88% while Internet Explorer had 31.47% which is a bit less than Chrome's. The data suggests that the popularity of Chrome keeps increasing and more people like to use Chrome these days.
Earlier this year StatCounter reported that Chrome overtook Internet Explorer for a single day on March 18th. It said that Chrome had a market share of 32.7% while Internet Explorer had 32.5%. StatCounter CEO Aodhan Cullen pointed out that people prefer to browse using Chrome at weekends.
He said in March, "Whether Chrome can take the lead in the browser wars in the long term remains to be seen, however the trend towards Chrome usage at weekends is undeniable. At weekends, when people are free to choose what browser to use, many of them are selecting Chrome in preference to Internet Explorer."