Google Dominates Search Market Share
DCI
The industry researcher comScore has recently released a report on search market share for the month of February 2012. Google dominated the market share with the highest percentage followed by Bing, while Yahoo lost its market share this time.
According to the comScore report, Google's share has increased by 0.2% compared to last month and became 66.4% this month. Google occupied the top position in the list. The share of Microsoft's sites (including Bing) rose by 0.1% this month to become 15.3% and secured the second place. The market share of Yahoo sites dropped by 0.3% and became 13.8% this month. The Ask Network's share remained 3%, which is the same as last month. AOL's share decreased by 0.1% and became 1.5% this month.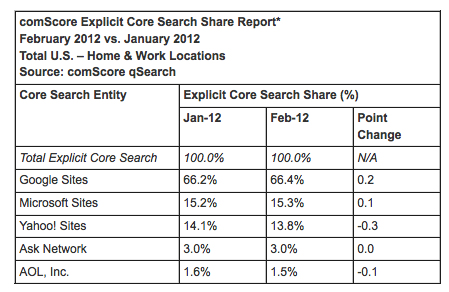 The report also revealed that Americans made 17.59 billion core searches in February which is less compared to January where 17.8 million core search queries were conducted. 11.67 billion searches were made in Google, 2.68 billion searches in Microsoft and 2.43 billion in Yahoo.
Google dominated the mobile search market share followed by Yahoo and Bing respectively.