Google Latitude denied nativity, launches as web app on the iPhone
DCI
Google Latitude is on the iPhone now. No, it is not a native app, but a web app that runs in the foreground like every other third-party app of the iPhone. Why is it so? Because, Apple said so. Yes, at least that is what Google's official blog post seems to paint:
"We worked closely with Apple to bring Latitude to the iPhone in a way Apple thought would be best for iPhone users. After we developed a Latitude application for the iPhone, Apple requested we release Latitude as a web application in order to avoid confusion with Maps on the iPhone, which uses Google to serve maps tiles."
Tech-experts look at this "avoid confusion with Maps" statement from Google as a bit strange as Google, if needed, could have found the means to build Latitude into Maps. Many in the Silicon Valley opine that Google might have built a native app for the iPhone, but since Apple did not want it, may have made a web one instead.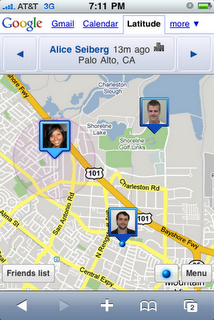 So, it looks like Apple has dictated a decision to Google, and Google has listened to it. Maybe once-upon-a-time Apple board member and current Google CEO Eric Schmidt played a role in accepting Latitude as a web app. The very fact that it took such a long time for Google to enter the smartest smartphone in the market underscores the Apple-Google (rather iPhone-Android) hidden rivalry. However, with Apple talking about opening background tasks for the iPhone, we can expect instant messaging, location-based networking and other such services to run in the background soon.
Whatever be the case, native or browser-based, Google Latitude brings location-based networking (which is already on Android, BlackBerry, Symbian and Windows Mobile devices) to the iPhone now. As always, Google is concerned with privacy and has given the user full freedom to opt-in for levels of privacy.
A user can, through Google Latitude, choose to 1. Detect and share current location automatically, 2. Set location manually and 3. Hide location from friends. Since Latitude is a browser-based app on the iPhone, updates can happen only when the Latitude web page (http://google.com/latitude) is open on the Safari browser.
Though browser-based, Google Latitude runs well on the iPhone. It comes with a menu system that allows user to search for and see traffic on the map.