Google Launches New 'Solve For X' Project
DCI
The web giant Google has recently unveiled a new project named 'Solve for X' for tackling some of the world's biggest problems.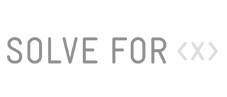 The company launched a website called 'Solve for X' that encourages teamwork and information sharing, to come up with 'radical' ideas to solve major problems of the world. This website fosters discussions about various global problems like water scarcity, global warming, climatic change, cancer and so on.
"Solve for X is a place where the curious can go to hear and discuss radical technology ideas for solving global problems," stated the project's website. "Radical in the sense that the solutions could help billions of people. Radical in the sense that the audaciousness of the proposals makes them sound like science fiction. And radical in the sense that there is some real technology breakthrough on the horizon to give us all the hope that these ideas could really be brought to life."
'Solve for X' originated offline as a three day event for a selected group of fifty people in California last week, co-hosted by Google's Executive Chairman, Eric Schmidt. Google's rapid evaluator, Richard DeVaul, explained what was discussed at the event in a Google+ post. "The conference is driven by short, technology rich presentations on topics ranging from low-energy, low-cost water desalinization to stretchable silicon sensor on skin," he wrote.
Nearly a week after its intimate gathering, Google has now invited the world to join the conversation on its website.