Google Play Store Gets Update With Nice Tweaks as Well as More Consistency With Material Design
DCI
Starting with Google Play Store version 5.7.6, users will probably notice a number of minor, while significant, changes. The Play Store is one of the elements of the Android operating system that can be upgraded on its own, so the new download is definitely worth it, even if it's not immediately noticeable. The Play Store can be updated from fairly early versions of the operating system, taking into account that there are still almost ten times more users for Android 2.x than, say, Lollipop.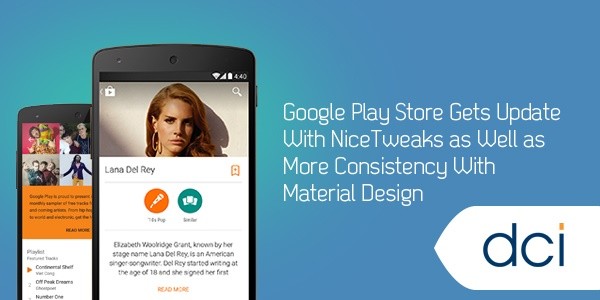 The Play Store now incorporates more elements of Material Design, Google's color and design scheme for mobile that bases itself unified structural color-coding and organic, natural design. In short, this means your App Store just turned green. Another part of the update includes animations. When looking at new game banners, the character icon will move front and center above the titling and description of the game, a slight switch designed to make the look of each app a little more different.
While these may sound like minor changes, they are part of making your app store part of a more tangible experience with future versions of Android. Material Design is based on Google's work in applying movement theory (such as Fitts' Law) and technical advancement (meaning that while they don't say that they are prioritizing touch– which means it's primarily focused on mobile apps– they're kind of prioritizing touch) to App design, as well as a consistent standard throughout the Android ecosystem. The changes in the Play Store may therefore be relatively minor, but are baby steps in Google's plans to create a simpler, more intuitive ecosystem for its users.
For those not interested in the more technical aspect, the updates to 5.7.6 just plain look great. The shift from character to game via a simple animation bring a friendliness to the Play Store and transition effectively like a better introduction to a game that the user can already identify with. And because of this, we can expect to see more downloads of games with popular characters. This can be a boon to developers who create an addicting game with a compelling character (thinking, for example of Mario or Angry Birds) and want to create sequels. A simple change such as an animation can make a big difference.
Meanwhile, the "green changes" in the Play Store are to be expected. There has been more and more talk of integrating Material Design into Android, so you can expect to see more changes in this vein later. Android's bet its chips on the future of the user interface, so the changes to the Play Store are representative of a greater change towards a future of integrated, increasingly intuitive design. Will users like the changes overall? If the Play Store's update is representative of what Google wants to bring to Android in the future, then their ambitious goals look to be a net positive in the mobile OS space overall.