Google Posts in Google My Buiness: How it Helps your Local Business
DCI
Google My Business, makes local searching easier for small businesses by utilizing localized SEO strategies which is one of the type of digital marketing services. It has been helpful to small businesses in many ways – one of which is that it allows their businesses to be found locally by appearing in local Google search results. Business owners can set up free accounts with Google and keep their accounts updated by managing how their businesses appear whenever a Google search is performed. They can update basic information such as their hours of operation, the business name, and address, and can even leave comments or respond to customer reviews.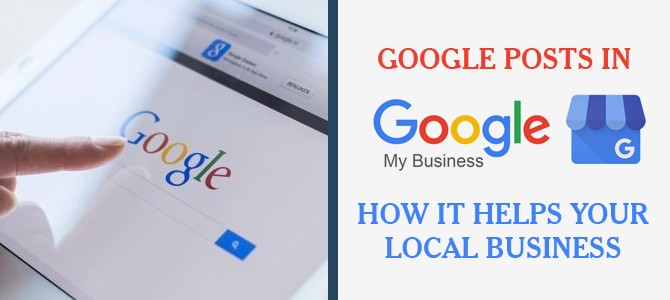 Google Post
Google Post, another feature of Google My Business has recently been launched. It is been designed to help businesses attract even more attention to their company, all while gaining more visibility.
Google Post is available for use on multiple devices, primarily on desktop computers laptops, iPads, and mobile phones. After logging into your Google My Business dashboard, a new post area is now available. Business owners can now add various posts using different formats.
These posts are great because it's very similar to what businesses would previously use when implementing traditional marketing methods. They include:
Announcing new promotions
Announcing 1 day only, daily specials
Announcing or promoting upcoming events
Promoting some of your top, best sellers
Take reservations
Receive sign-ups for newsletters and subscriptions
Make direct sales using the Google Post platform
These are great features and a great new addition to the Google My Business Platform.
This platform also allows you to add an image, add up to 300 words of text that describes your post, as well as add a title. And if you want, you can also include a call to action button by using various relevant options as well, including things like
Sign-up
Reserve
Buy
Get offer
Learn more
Along with your posts, not only will you have an opportunity to appear in the Google search results, but your business will also be able to appear on Google maps based on the query and the overall nature of the post.
If Google post sounds a little familiar to you, it may be because the same feature was used with a different name. It was initially introduced as the candidate's card and designed exclusively for political candidates who wanted more visibility.
Is Google Post Right For You?
You may be wondering if Google post is right for you, correct? Well, although it's still in its primitive stages if more exposure to your business is what Google Post provides then I would say yes, it probably is right for you. Every business should want to make announcements about promotional items and other perks that lead to generating sales. Your business will be seen as a business that's on the cutting-edge, keeps up with the latest technology and best of all can be easily found by local customers who are searching for you.
This is a great way to organically provide your customers with information about what's going on in your business. For more information get signed up with Google post today.