Google Tries To Enhance Its Local SERPs
DCI
Google always has a regular habit of making new changes or updates to the outlook of its web layout and result pages. Usually Google will experiment the new updates or changes in beta stage only in certain selective data centers. Now recently local search results have joined that beta testing list, with some creative and innovative modifications to its outlook. Google's willingness to experiment the local search results was first confirmed by Mike Blumenthal, a local search expert who shared some screenshots of Google displaying different layout for the local search results in his blog Google Testing New, More Integrated Local Search SERPs

To better understand the local SERP changes, I have provided the screenshots for your reference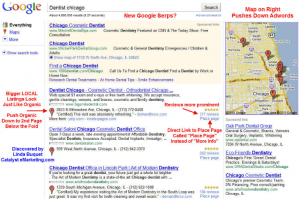 You can realize the below changes from the screenshot
Map is pushed down the sponsored listings and placed at the right side.
The Google place listings are seems like an organic listings and the only difference is they have map in point.
Google place listings shows the meta description as like organic results
Organic listing starts displaying at the bottom of 2nd scroll down. Also when you scroll down the page the map will also scrolls down on the right side.
Another noticeable thing is reviews that are more obvious. Under reviews, its showing direct links to Google place instead of "More info"
Further Elaine Filadelfo Google's Global Communications & Public Affairs mentioned as follows:
Yes, this is an experiment with a small number of users that aims to make it faster and easier for people to find businesses and places of interest near them.
So from this we can understand that the local business owners can concentrate much more on Google's local business listing rather than organic results (SEO). As soon Google may deploy this change to live in all datacenters, it is now important to think of the essential ranking factors to consider in to account. I have listed some factors which will be useful for the small business owners below:
Google with this move have shown that, it started giving importance to the local cal listing. So local business owners should consider creating a prominent Google Places Page in order to get listed in the Google SERPs. Also incomplete profiles can be completed to add considerable value to the listings and unclaimed businesses can be claimed.
As reviews become an important ranking factor, positive reviews from prominent clients would bring more value for the places listing. So now reviews plays an vital role in bringing potential customers through the local listing.
As local results may overtake the organic results, descriptions can be considered as the another important ranking factor.
If we follow the above things then we can enjoy this Google's local search result enhancement by dominating the search engine result pages. Please keep an eye on your SERPs do share your comments below if you see the changes in your SERPs.