Google's Motorola Makes a Mockery of Apple's Maps App
DCI
Motorola used its official Google+ page to shoot at Apple's new Maps application. "Looking for 315 E 15th in Manhattan? Google Maps on DROID RAZR M will get you there & not #iLost in Brooklyn," it said in an ad.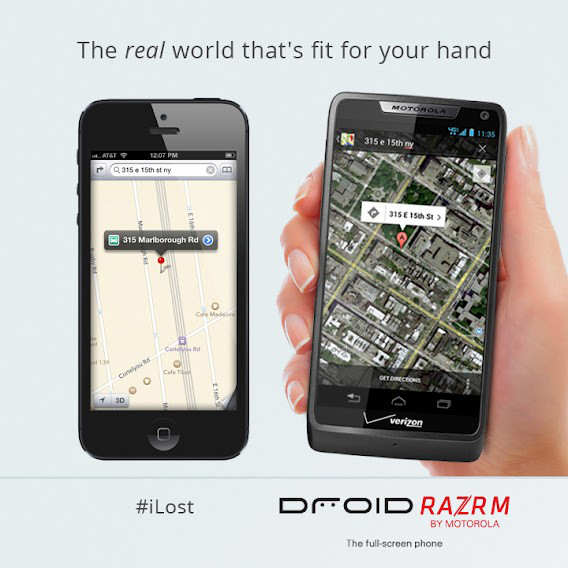 The new mapping software that Apple introduced with the iPhone 5 was earlier criticized by technology gadget reviewers, as it does not provide directions for public transportation and sometimes creates confusion when users navigate. This is because Apple lacked the resources to provide the majority of geospatial and POI data required for its application. Motorola's new ad is another hit on Apple.
Fans of Apple seem to be experiencing a downgrade of maps in iOS. Plenty of attention was paid to business motives and this was the reason behind the company dropping Google Maps and choosing to build its own. For Apple, removing Google's products from its phone seemed to be more important than giving its customers the best mapping application.
Unfortunately for Apple, they need re-engineer their approach to data fusion and mapping. Apple needs to hire some experts in mapping and people who are experienced in mapping and understand the problems that can and do occur. Apple needs to get active in crowdsourcing. They must find a way to utilize local knowledge and invite their users to supply local information. This could be accomplished by setting up a service similar to Google Map Maker.