Growth Hacking 101: Tips To Sky Rocket Your Mobile App
Alfred
After developing an app and publishing it on the major distribution platforms, how do you turn the spotlight into it? The reality of the matter is that after releasing your app, you will be really frustrated when your creation doesn't immediately skyrocket and get numerous downloads on Playstore or Appstore. With over 1,500,000 already published in the market and the newer ones being published every single day, the market has already become saturated. And this means stiff competition ahead. In order to have an edge over your competition, you need to come up with a good strategy that will get people talking about your app. In this article, we will look at the 10 tips to skyrocket your mobile app.

1. Create a Plan
The first step towards achieving great success with your mobile app is coming up with a good plan beforehand. You need to develop a well-structured plan of how you will launch and market your app. It is through the plan that you will evaluate all the current marketing channels and determine which ones will be the best for promoting your android app and other platform apps. As you plan your mobile app marketing, also remember to plan the release date of your app in this stage.
2. Define Your KPIs and Smart Goals
Key Performance Indicators, also known as KPI, are the various performance metrics that measure the specific goals for a business. Just like with any marketing strategy, when you design and implement your app you will also need to know various important metrics which are the KPIs. These include your app download rate, app uninstall rate, user retention, and Average Revenue Per User (ARPU). After knowing that, you can now set the goals that will define the direction of your app. But how do you make sure that your goals are effective? The best way to evaluating the effectiveness of your KPIs is by the use of the SMART criteria. This means that your goals should be Specific, Measurable, Attainable, Relevant, and Time-Bound.
3. Doing Competitive Analysis
Another very crucial mobile app marketing is to have a complete analysis of your target audience and various other important metrics that you need to track. In this point of your app launch, you have to study the opinions of other people. However, don't rely only on those from your family and friends. You can try to reach various important persons in your industry and your target customers. You should also keep an eye on your competitors and try to be a step ahead of them.
4. Focus on Organic Marketing (ASO)
While it may seem quite simple, App Store Optimization is also a very effective in-app growth hack. By now, you already know that in-app store rankings are influenced by things like keywords used, app description, app ratings, and app reviews. However, there's more to in-app store optimization that just that In addition to all those, you also need to consider how various keywords rank in each app category. You also need to have a well-designed icon next to your app's descriptive name.
5. Try to Do a Beta Launch
This is one of the most crucial steps that you should undertake before launching your app. The main aim of conducting beta testing is to get insight into how your app will perform in real-world experience before launching it As you do this, you will gain a deep understanding of your users' and their needs in the context of using your app. Beta testing will also help you discover if there are any bugs and that is why it is an extremely important process.
---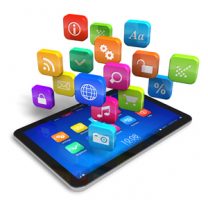 Want to Get Your Mobile App Into the Hands of Millions?
Our app marketing experts help your mobile app get the attention it deserves. We provide a suite of marketing services to skyrocket your downloads & grow your app's revenue.
---
6. Improve the App Based on Feedback
After your users have used your app, their feedback will show whether your app is relevant and deserves a download. In addition to that, reviews and feedbacks are also very helpful when it comes to identifying where you have made mistakes. This, in turn, helps you to overcome your app's weakness and enhance your consumers experience.
7. Focus on Referral/Viral Marketing
When compared to other incentive methods, using referral has been found to be the most effective way to get numerous app downloads. In fact, the strategy is used by many established brands including Uber. The use of incentives motivates your app users to refer your app to their family and friends. As they get more discounts, you will also benefit by getting more users and growing your user base.
8. Use Appropriate Paid Channels If You Have a Limited Budget
We understand how costly paid acquisition can be for the ongoing growth of your app. However, if you want to build awareness then you should consider using paid channels at least to conduct a limited app launch campaign. This will give your app the necessary boost that it needs to gain visibility during the first few days. Some of the most cost-effective but appropriate paid channels that you can use include social media Ads and in-app Ads.
9. Create a Promo Video
With a well-created promo video, your users will be able to take a stroll around your app in less than a minute. A good promo video should be dynamic and show all your app's main features. You can use tools like WeVedio, Raw Shorts, and Powtoon to create and edit great promo videos. You should place the video on your app's blog, website, or even share it through your various social media channels.
10. Focus on Big Launch With a Good Budget
It is advisable to kickstart your app with a big launch with a good budget preferably using the Press. If you want to get the press, all you have to do is just reach out to the journalists. Just ensure that you prepare a press kit early enough and prepare a list of the reporters, bloggers, and influencers that you want to be there. You should contact them a few days before the launch to remind them when you are launching.
Conclusion
Publishing your app is just the first step of a very long journey. While there is no single strategy that is a sure-fire way to drive your app to success, with these app marketing tips you can be guaranteed to see your app skyrocket and get multiple downloads. The good thing is that all the tips are suitable for promoting nearly any type of app.