Guide to Use Google's Search Console to Fix Site and Drive Traffic
Mercy
Every business needs an attractive and responsive website. More and more people are spending hours searching for information and products online. What is more, the number of smartphone owners is growing every day. The future of digital marketing looks bright. After you have built your website, you need to find a way to make it stand out from the billions of similar sites that dot the digital landscape. You need to devise an intelligent and focused digital marketing strategy. However, there are many problems that plague websites, adversely affecting their performance. It is your job as the owner or manager to ensure your site functions efficiently at all times.
You Need Tools
Before Google Search Console, site managers used to rely heavily on Google Analytics, but this tool no longer cuts it. Google Search Console is one of the Search Engine Optimizer's most useful tool today. Note that the Search Console offers you no steps on how to fix your site. It helps you to understand what ails your website so that you can come up with viable solutions.

Getting Started
First, you need to create a Google Search Console account. Then proceed to use the tool to diagnose all the problems that render your site inefficient. Sounds simple, doesn't it? Let's see.
Analyze Your Site
Access the tool and go to the "Search Traffic" and find "Search Analytics" under it. Under "Search Analytics", select four critical metrics namely
Clicks
Impressions
CTR
Position
The four metrics help you determine what drives the current traffic to your website.
So what do you want to analyze? Experts recommend you start with "Queries" since it allows you to view all the keywords to which your site's traffic is attributable. You can see Clicks, Impressions, CTR, and Position for each of the keywords on the right-hand side.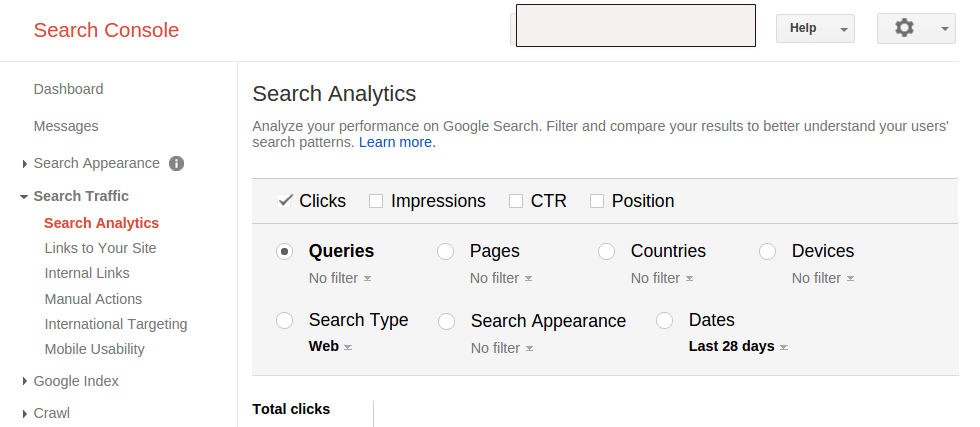 Create New Content
You now know what real people are looking for on your site. For example, one of the keywords could be "Affiliate Marketing for Beginners." You can write a well-researched, captivating blog post that makes web searchers find you more easily. And while at it, try creating long-form articles; Google seems to favor these over short-form ones when it comes to ranking. Use Google Search Console to find popular keywords and then build amazing content that meets the searchers' needs.
Consider the Backlinks
It is kind of glib to say backlinks matter. Backlinks are what got you ranked well in organic search results until 2014 when Google updated its ranking algorithm. While backlinks are still valuable; something has changed: they need to be from credible, authoritative sites if you desire to see any good from them. So look carefully and note the sites that link to your site often.
A site with more high-quality backlinks is more likely to get better ranked than a website with fewer links. In one study, the highest-ranked content had the most external links. If the links are coming from one domain, think of creating content that appeals to many more others out there.
Reach Out
Under "Search Traffic," navigate to "Links to Your Site". The Search Console reveals the content to which most external sites link. If you click on "More" that appears under your most linked content, you will get to see a detailed list of every website that has ever linked to yours.
Even better, you can download these links into a spreadsheet for more focused examination at later times. Try reaching out to those sites' managers. You could, for example, email them and request links exchange. Of course, you need to show them how they win by helping you.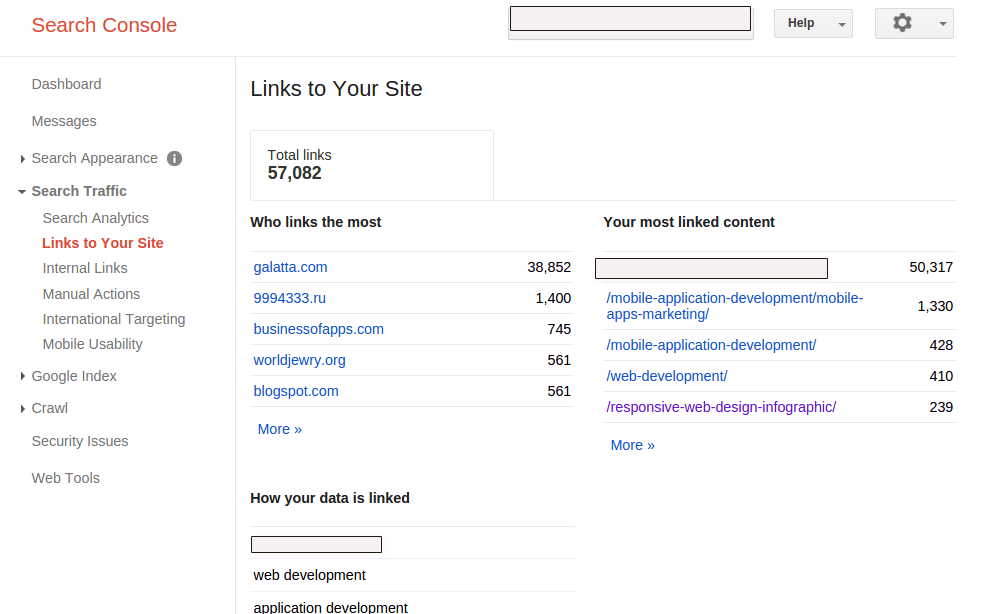 Identify Your Site's HTML and Coding Issues
HTML and coding issues are some of the reasons your site's speed is not where it should be. And these problems happen more often than you imagine. Try running your site through Google's PageSpeed Insights to see some of the issues that plague and slow down your site.
Google will show you what you need to "Minify." Google may, for instance, advise you to minify HTML, CSS or JavaScript. Once you do that, you can expect to see remarkably improved site speed. Did you know that a site that loads fast gets a lower bounce rate than its slow counterpart?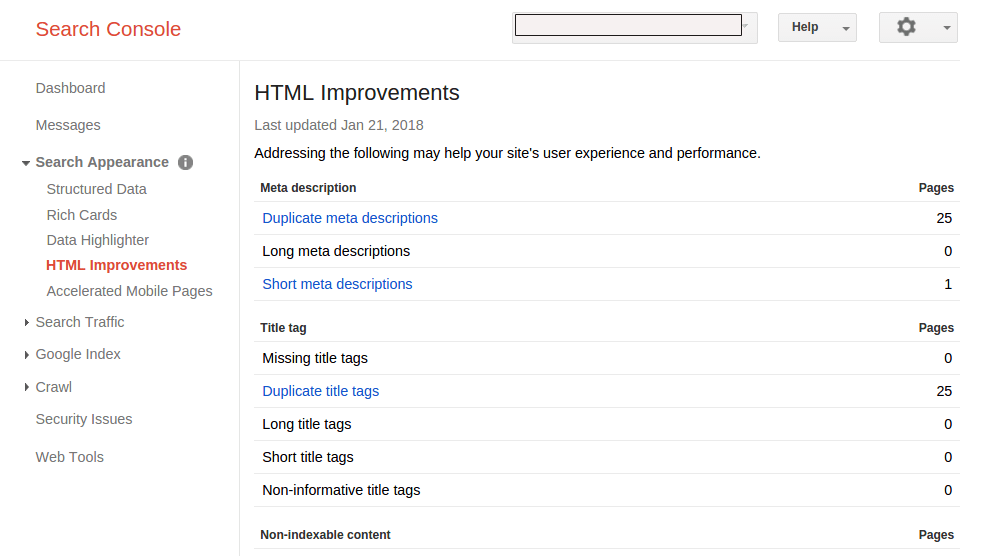 Solve HTML Problems
Go to the dashboard and head to "Search Appearance" and then "HTML Improvements". Here, you will see which specific issues plague your site. The problem could be duplicate title tags, Meta Descriptions that are too short or too long, Non-informative Tags and so on. If you click on a suggestion like "Duplicate Meta Descriptions", you will get a curated list of the specific web pages where the issue is. Fortunately, fixing these problems is easy. A useful plugin such as Yoast can help you create SEO-friendly Meta Descriptions that improve your site's speed.
Pay Attention to Indexed Pages
You need to know how many of your site's pages Google has indexed. Just head to your website's "Index Status" under Google Index. Google produces an easy-to-understand graph that indicates the number of indexed links. Additionally, you get to know how many links Google crawlers have blocked. You can remove pages you do not want the search engines to index.
Test Your URLs
The 'Fetch and Render' tool assists you test your URLs. It enables you to run a simulation that leads to a deeper understanding of how Google scans and crawls your site. You get to identify the scripts or images that are blocking Google Crawlers. Go to Search Consoles "Crawl" and click on "Fetch as Google". Then type your full URL and hit the "Fetch and Render" button. You should get a report with the elements Google is not scanning.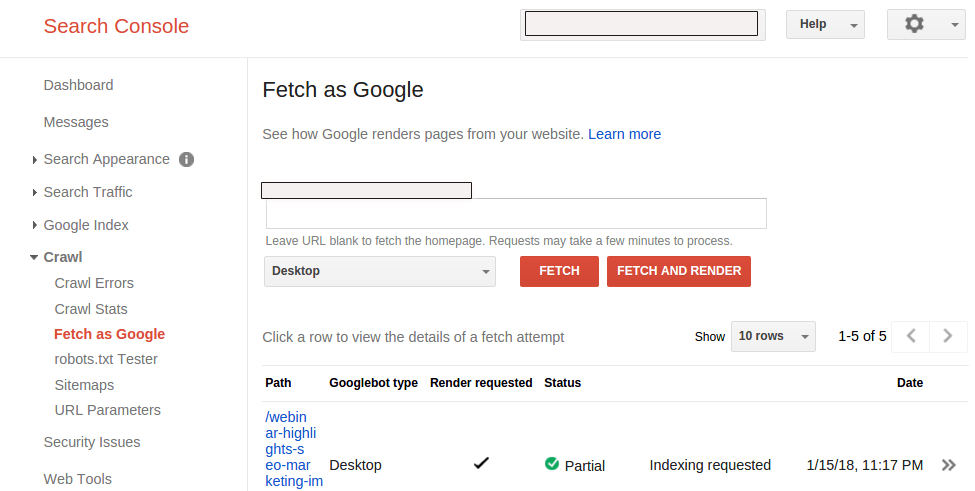 These are not the only ways you can use Google Search Console to enhance your site. Research to get a more in-depth knowledge on how to use this powerful tool to earn the kind of traffic you desire. There is no time to waste; start now.