HIPAA Compliance: Challenges Faced By Healthcare App Developers
Raja
What is HIPAA compliance?
The Health Insurance Portability and Accountability Act (HIPAA) sets the standard for sensitive patient data protection, which encompasses nearly every aspect of U.S. healthcare. It operates on behalf of the HHS, or United States Department of Health & Human Services. It protects human healthcare rights in many sectors, including privacy. It collaborates with numerous U.S. healthcare systems and their providers to offer affordable, convenient healthcare to all, but no system is ever perfect.
And there are crucial moments when even healthcare contractors like mobile app developers, HIPAA or otherwise, may need to re-engage their initial protocols to offer a more viable healthcare app than what's present or even to remain in full HIPAA Compliance – as U.S. law rightfully mandates without question.
Without compliance, there's no approval. Without approval, there's no sale. And with thousands of healthcare suppliers seeking to list their plan or package on the market, that can become a problem.

Challenges Faced by mHealth App Developers
The Line of Action
This factor alone can be the cause of much tension, stress, and unending heartache altogether, but it nevertheless remains a crucial one you must plan, according to HIPAA. It's also quite a common mistake developers most often ignore when planning their app's layout. Data security, as the most important yet ignored concept here in play, lies behind this. But to take such an approach is not only regretfully time-consuming but also poses several other complexities of reputable scales, such as high mobile security. Furthermore, any serious mHealth app will require numerous pre-approved protocols.
Other HIPAA Security Rules & Their Proper Compliance
Have you mapped out a plan of action, while also assessing your app's current state, with hopes of making it fully pass — or even surpass — what the Act requires through its many regulations, such as the HIPAA Privacy Rule, HIPAA Security Rule, HIPAA Enforcement Rule, or HIPAA Breach Notification Rule? For instance, the Privacy Rule thorough encompasses instances in which one may both use and share PHI or Public Health Information. The Security Rule, on another end, further engages how one's electric health information remains fully protected. Moreover, the Enforcement Rule details how one may enforce numerous other HIPAA laws, as well as situations requiring immediate corrective action — and their consequences — to the fullest legal extent.
Push Notifications
It's easy to misuse these when developing your app; it's much easier to become unaware that you are doing so. But don't dismay. There are a few things you can do, such as not sending a "wrong" push notification, an action that can more often than result in an immediate violation of HIPAA — whether intentional or not. Since cell phones are partially insecure, in some respects, such push notifications will not always notify the mobile phone owner about app changes or updates. App developers, please note the following as well: Sending PHI by means of push notifications will also most likely lead to numerous unexpected HIPAA regulation violations.
Messaging Violations
Though many experts still postulate that text messaging's perhaps the best method for enhancing the overall quality of the doctor-patient relationship within any practice, there are still some risks you should carefully digress. Only send texts containing any degree of PHI, for instance, through the respective organization's app, which must already stand as HIPAA-approved. Regular emails will not work for sending such texts as they're usually not fully-encrypted or HIPAA compliant. Don't embrace non-medical communication apps for this either.
---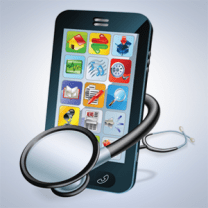 Looking for Development Partners who can help you build HIPAA Compliant App? 
Mobile apps pose new challenges for adhering to HIPAA requirements for securing electronic Protected Health Information. We can help you developing your dream app!
---
Continuous, Stringent, Full FDA Approval on All Ends
Ask yourself if the U.S. Food & Drug Administration, or the USFDA (FDA), holds a high possibility to consider your app as a "medical device". If not, then it must comply with extra regulation from the FDA. In addition, please review these steps you can take to maximize your chances of gaining both HIPAA and FDA approval in this regard.
Mobile Security
"We recommend to first make sure and aim to develop a highly secure mobile app with the best security measures in the industry. This way, many of the HIPAA aspects would already be achieved and compliance would follow naturally. Developing a HIPAA compliance for your app would become a much simpler task if developers build the app according to the industry standards and frameworks."
Proper security can often lead to approved compliance. It's as simple as that. The U.S. government, with its highly stringent measures and high-security procedures overall, would have it no other way. So, your best option is to enforce security to ensure compliance.
Consultation
App developers and their agencies will rarely go wrong when they employ professionals to assist in this matter, especially when dealing with government compliance and proper legal standing. You should primarily consult a legal attorney or business with plenty of prior experience in the arena of mHealth. While doing so, it would not hurt to additionally seek out professionals in-app scrutiny, ones who hold a strong standing for in-depth analysis and action-plan implementation — the more well-versed and well-rated, the better. Remember: You can never "over-invest" in-app quality with compliance.
Key Conclusions – Final Thoughts to Take Home
The U.S. HIPAA is the ultimate authority in all things "healthcare", and that no less includes the intrinsic, delicate realm of healthcare app development. There are many ways to develop such an app, not all of which end up in compliance, or ready for long-term market success. Keep in mind that, in this very time-consuming endeavor, one or all of seven unique challenges will present themselves: the line of action, HIPAA rules, and regulations push notifications, text messaging, FDA approval, overall mobile security, and consultation. Are you, as a developer, prepared to meet these challenges head-on?