How to Develop an App for the Internet of Things (IoT)?
Alfred
The 21st century has surpassed many peoples imagination, especially with mind-blogging innovations. One affiliate to this revolution is the development of the Internet of Things (IoT). Notwithstanding, not all mobile app developers are familiar with the IoT App Development.
So how do you turn the tables and profit from this platform? Here is how you develop your app for the Internet of Things.

What is the Internet of Things?
In layman's language, the Internet of Things refers to the process where components such as sensors, cloud computing, and electronic gadgets are interlinked with each other via a network. Thanks to wireless communication, data is shared and stored on online servers.
According to a report by Marina research, an estimated $3 trillion is expected to be accrued IoT by 2025. This projection is a clear indicator of where online investment is headed to.
Main Components of IoT
So what are the units or subunits that form the IoT? Basically, the avenue is comprised of three main parts namely;
1. Cloud
What is the cloud? What is its significance?
What's the relationship between cloud and Internet of Things (IoT)?
These are some of the most frequent questions asked. Ideally, the cloud refers to the internet platform where data is acquired, transmitted, processed, and stored.
So how does it work?
Well, the cloud collects real-time data is processed with output been relayed afterward.
The usability of the platform comes at a time where data needs are extremely high. A reflection of this is the limitation of space on the hard drive. That's why cloud systems are perceived as the replacement of the conventional services
2. Network
This is the link between the different physical components connected on IoT. Essentially, the network gathers data from the varying components entangled and arranges it systematically.
3. Things in themselves
The 'things' refers to what is the activities that are achieved on this platform. Let's say, remotely controlling your music player at home to play or stop. To function, the devices must be installed with the specific Operating System.
This makes it easy for commands to be sent, received and updated on the central data system.
Major things to ensure a Successful Internet of Things
Scrutinize and Weigh on the Avenue to Use
To reap heavily from IoT, app developers have to be critical in selecting a viable platform. So what should the best avenue look like? To help you with this, app developers can approach credible IoT strategy companies.
Some of the renowned startups include:
1. Android Ubidots
App developers can access the Android platform to create an account and data source. The account created on Android can then be connected to Ubidots. This will enable developers to push the app on the smartphones.
2. Thingworx
The renowned avenue provides app developers with advanced and powerful tools to market their products. Industrialists can go for Gartner Magic Quadrant for assistance in market research and trends.
Another top platform is the Forester Wave Report for viable IoT Strategies. That's not all industrial companies often consult Colfax Company for the best IoT strategies and plans.
Generally, Thingworx is publicized because of the following benefits.
Segregation of product and service offerings
Optimization of business activities
Enhancement of user experience on the app
Create and pinpoint new revenue channels
3. Xively
This illustrious platform is accredited with providing top IoT practices for app developers to adopt.
Hierarchy of IoT Apps
App developers lay no claim in knowing IoT if they are unfamiliar with the levels of the platform. Which are these levels? Well, IoT is structured in four-tiers. These are:
The devices
The ingestion stage
The analytics section
End-user
Security Measures
While developing your IoT structure, always call to mind that security is paramount. Why the emphasis on security? Well, the fact is that the data shared and stored online is susceptible to penetration. Some of the common online vulnerabilities include hacking and malware infection.
The situation is further complicated by the reality that cloud computing is open to the public.
So how do you secure your IoT platforms?
Currently, the most effective solution is the use of machine learning. Moreover, app makers should be keen on other essential security practices. These encompass digital forgetting, computation, communication, privacy and trusted sensing.
The Detachment of the API Interface from Services
In a nutshell, artificial programming interface (API) provides the gateway for the audience to access the data. With this in mind, it is wise for app developers to separate the API interface. This is because the market trends keep on changing hence the need to be flexible like AI Market Trends.
So far, the top interfaces are mobile and desktop services. Therefore, developers need to consider and maximize on both platforms. This will help in avoiding situations where users are unable to access the app on either mobile or desktop.
As it stands, online services have drastically shifted to the mobile platform.
Scalable Targets
The prospects of the escalation of the Internet of Things are significantly high. App developers ought to adopt an architecture that attracts more organic traffic over time. Essentially, the app should be able to handle any significant increase in data requirement and needs.
Subsequently, it is recommended that developers monitor mobile app analytics to aid in scalable solutions.
Superb Data Streaming Services
What better way to enjoy smart technology than on superfast data transmission? If all components are responsive then the output given is remarkable. Part of this achievement depends on the protocol used.
Preferably, application makers should opt for safer protocols such as HTTP, MQTT, and CoAP.
Thus, app developers should always encompass superfast software and hardware to the system.
Furthermore, app developers are urged not to compromise on quality. Sub-standard IoT components will deliver faulty or inaccurate results. It is important to always test computer systems and mobile devices to ensure they meet the requirements.
Data Management
The existence of the entire IoT network revolves around data. For this reason, app developers ought to be conversant and exemplary at data management. Data management includes activities such as:
Data acquisition – app masters should only allow data from their servers and block any unauthorized sources.
Data validation – here, the data is cleansed to promote consistency when it comes to merging.
Data storage – developers should reaffirm that the cloud is not crowded or served with poor bad network services.
Data processing – in IoT, this implies that the platform processes real-time data. Also assists in minimizing latency.
Accuracy in these stages ensures that the subsequent results are accurate, reliable and timely.
Industry to Setup the Venture
Earlier on, we mentioned that IoT is rapidly gaining popularity in the day-to-day life. With more sectors jumping on the bandwagon, it is crucial that app developers analyze their preferred field. The likes of health, transportation, industry, and sports form part of the profitable avenues.
By doing a thorough research, application developers can determine whether their product will suffice. After analysis, it is up to the app owner to dedicate resources in incorporating the IoT in the field.
---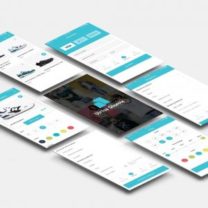 Lets create your Iot App, Make your Business Smart
Choose IoT App Developers from Dot Com Infoway, Convert your Business into Smart Business. Improve your Customers by deploying IoT features into your Business. With our 20+ experience, we will deliver our IoT solutions that helps build smart solutions for your business.
---
Application of IoT
Too much talk about IoT, it's time that we embark on the areas where the platform is adapted. So currently, IoT is employed in a myriad of fields as more sectors swiftly adjust their setup to accommodate it.
Nonetheless, these are the big winners of the online platform.
Smart Homes
What is a smart home?
Well, this is a residence where appliances, heating, air conditioning, TVs, computers, surveillance systems, and entertainment audio are capable of communicating with one another regardless of whether the homeowner is around or not.
So what is the technology behind this?
Well, this is a superb manifestation of IoT. Embedded with similar operating systems, hardware such as appliances can respond to commands given. Likewise, smartphones are empowered, via the internet, to remotely control things at home.
Other functions such as opening curtains, lighting the fireplace and opening the garage doors can be done by voice.
With smart homes, the end goal is to help people save on time, energy and money. Unnecessarily movement around the home space is indeed boring and tiring. Interestingly, the spectrum is looking brighter as new technology innovations expected to launch in the near future.
Gaming
According to Statista, the gaming industry is forecasted to accrue $2.2 trillion by 2021. Online gaming industry prospers thanks to the cloud activity and database. Given the enormous data required in running these games, developers opt to establish their content online.
So how has the IoT revitalized the gaming world? First and foremost, IoT is resourceful in bridging the physical gap between players and the platform. A perfect example is the creation of mixed reality, augmented reality and virtual reality.
Secondly, the online platform blends the virtual gaming work to the real world. Here, we are talking about casinos and gaming arcades. Therefore, the experience in real life is studied and replicated in the cloud gaming.
In any case, online gaming is getting more sophisticated thus developers need to tap into this opportunity.
Fitness Centers
IoT has come in handy in offering personalized training and exercise. By combining smart technology and workout equipment, trainers get to help clients attain desired fitness status. Companies such as Hyfit specialize in providing customized tension cords and real-time data trackers for workouts.
How is this important?
Well, the aspects such as heart rate, calorie value, fat burn and body tension are in check. This will help in indicating progress and venues where innovators have to pull up their socks.
Industrial Usage
The beauty of the internet has greatly been showcased in the industrial sector. Milestones such as smart robots and machines have been made possible through the Industrial Internet of Things (IIOT).
Is the internet revolution better than human ability?
Coupled with real-time feedback and highly accurate performance, Internet of Things topples manpower.
Commerce
By far, the trading field is one of the pioneer beneficiaries of IoT. Entrepreneurs and organizations have manipulated the avenue to help keep tabs on transactions made, customers' satisfaction, market trends, and prices.
For retailers, it becomes easy to interact with customers and improve the services or products offered. Subsequently, companies can learn about the latest technology detrimental in boosting the revenue.
Medical Healthcare
Conventionally, IoT has been present in the medical field more so in equipment used. These include sensors, glucose monitors, activity trackers and smart beds. So far, this approach has made modern healthcare apps & health services more convenient and efficient.
IoT has also taken center stage in remotely monitoring patients' conditions. An example of such a case is the use of wearables to monitor a patient's vitals.
That's not all; the future of IoT looks promising especially with the increasing need for synchronized and fast data transmission. Furthermore, the healthcare fraternity is anticipated to benefit more especially with the inventory of medical records.
App developers should watch this space and come up with astonishing products. Picture this scenario, a patient intends to revisit the doctor and immediately a real-time notification connects the two together.
Such futuristic approaches will foster coherent healthcare programs and services.
Transportation
IoT has made in-roads in instigating end-to-end visibility in the transport and logistics arena. This has been detrimental in heightening supply chain activities. For instance, logistic companies make use of radio frequency identification (RFID), portable computers and barcode scanners in the supply chain.
Do you know the vitality of fleet management? Are you aware of the technology systems incorporated?
Well, if not, here is the insight. Firstly, fleet management ensures that the routes used and maintenance schedules are adhered to.
Also, these routine activities need to take the least time to minimize costs incurred. Luckily, with IoT, logistics firms can computerize their systems for monitoring their fleet. Moreover, real-time data make it easy for technicians to timely respond to issues.
Development of application is an evolutionary and static procedure. Today it is shifting from manual to IoT the next day maybe a different approach.
On this basis, it is fundamental for app makers to be upfront and flexible to change. In regard to the Internet of Things (IoT), it is up to sharp and proactive developers to capitalize on this golden opportunity.
Related Articles: