Why Your Business Need an App? – A Beginners Guide on Mobile App Development
Alfred
Does my business require an application?
This is an essential question most business owners ask. Applications make a vital part of any business mobile strategy. Besides communicating with clients, an app allows business owners to understand the demographics of its customers. This is important as it enables businesses to engage better with their customers and provide services that meet the needs of the customers. There are many businesses today. The difference between a successful business and one that is not is the availability of information. Customers require convenience when it comes to accessing information.
Information enables them to explore available options and make choices. So if you want to grow your brand, you have to avail as much information to your potential customers as possible. Having an application is one sure way to connect with your audience and give as much information about your business. This app development guide will outline the signs to help you determine whether you need a mobile app for your business, the benefits of having an app, and the keys to developing a successful mobile app.

5 Signs that your Business needs a Mobile App
Most people use their smartphones to conduct their businesses. Shifting to mobile is, therefore, a smart way of reaching your target audience. However, you should not rush to create an application just because the general population has shifted to mobile. You need to be sure that your application will be valuable to your customer and your brand. So how do you tell if its the right time to create an application? Below are 5 signs that should tell you that your business needs a mobile app.
1. If your business is e-commerce
Mobile shoppers make a significant chunk of online shoppers. By creating a mobile app, you will be able to tap into this customer base. Mobile applications have push notifications that you can use to promote your products and improve customer satisfaction.
2. When your target audience is the young demographic
Research conducted by comScore indicated that people between the age of 18 and 24 use mobile apps more than another age group. And that about half of the millennials have a shopping app on their smartphones. So if your target audience consists of millennials, then it would be wise to have an application. This will make it easier for you to reach them.
3. If your main competitors have a mobile application
It is essential to keep up with the competition. So if your competitors already have an application, you will need to create yours before it is too late. You will have to create a unique app, better than what your competitors have This will make more customers to download your app, and you will be ahead of your competitors.
4. If most of your website traffic comes from mobile devices
It is essential to identify where the traffic to your website is coming from. If the traffic you are getting to your site is mobile traffic then its a sign you should create a mobile application. This will make it more comfortable for your customers to interact with your brand through their mobile phones.
5. If a mobile app can provide value above your site
A website is an essential tool for your online presence. It helps in adding value to your brand by meeting the needs of your customers. There are times, however, when you can address the needs of your customers better using an app than with your website. This usually is the best time to get your mobile application.
Benefits of having a Mobile App for your Business
Mobile use has become an integral part of our everyday life. On average people spend almost 5hours of their day on smartphones, a majority of which is spent on apps. As such, apps play an essential role in the growth of a business. Below are some of the ways a mobile app can benefit your business.
1. Enhances brand visibility
Having a mobile app means people will see your brand more often. The more your customers use your app, the more familiar it becomes hence growing your brand awareness. In addition to creating brand awareness, a good application will strengthen the relationship between your brand and your customers. Such customers will refer your app to other uses hence growing your brand visibility.
2. Improves your customer's experience
An app is the game changer when it comes to streamlining customer service. An application is always available at the convenient time of the customer. It offers the perfect services when it comes to availing information about your products and therefore an opportunity for your customer to interact with your products. Having a fully functional app will consequently ensure your customers get the best services.
3. Boost profits
Customer satisfaction comes with increased sales hence boosting profits. Having a good app will ensure your customers come back to transact business with you. This increases your conversions and as a result, improves your revenue. You could also make extra money from your app downloads as well as advertising on your app.
How Mobile Apps Complement Websites?
Almost all companies have websites as their primary online strategy. Sites are great tools for your online presence, but they may not make an utterly effective strategy. You will need a mobile app to complement your site since there are many features found in a mobile app that you cannot get in a website. Generally, a mobile app is more convenient, navigates faster and is readily accessible compared to a website.
Some of the devices feature found in apps but not on websites include;
1. Augmented reality
Augmented reality integrated apps for iOS and Android have become a top priority for most businesses. These apps help improve the overall experience of customers and the way they interact with your brand.
2. Biometrics
This is the latest technology that enables apps to capture user biometric information like retina identification and fingerprints. Upon confirmation of this information, users can be able to shop from the apps.
3. Camera capability
Apps can also use camera devices to allow users carry out tasks like depositing of checks. This improves the shopping experience hence high customer satisfaction.
4. Virtual reality
Apps also use virtual reality knowledge to create a fully immersive environment. This is in a bid to improve user experience as they provide realistic scenarios and simplifying complex situations.
---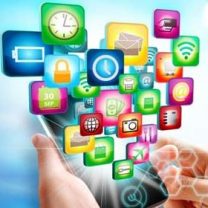 Infographic: Future of Mobile App Development
Dot Com Infoway launched an infographic revealing the hottest trends in mobile app development for the year 2018. The infographic asserts the anticipated rise of AI and Virtual reality in driving the gadgets of tomorrow.
---
Keys to Success
After making sure that your business needs a mobile application, then its time to create one. Creating a successful app is not a one-step process, but rather a journey. You will need to understand what goes into making a mobile app and taking time to make it make it better in meeting the needs of your customers. With that said, below are the keys to creating a successful mobile application.
Have a problem
The idea behind any invention is to solve an existing problem.
Why did your app fail? So if you want your app to make an impact make sure there is a problem it is going to solve. You can think of the challenges facing your customers and then come up with an app that addresses those challenges. Apps that simplify the lives of the users by reducing pain points are more valuable and get more downloads. You should also ensure your app is unique to avoiding copying already existing apps in the market.
Determine a need
Always check what your customers are looking. This way you will be sure you are developing an app whose demand is existent. You can do validation using essential tools like the Google Keyword Planner. Alternatively, you can create a landing page where you can state your app idea and allow your users to give you feedback on your opinion.
Set out the core features
Once you have validated your app idea, you will be able to determine what your users want. Determine what features are the most important to your target audience and avoid unnecessary features. Developing an app with features that are specific to the target audience allows you to produce an app that is valuable. It also helps in saving resources.
As time goes, you can continue adding features in the later updated versions of the app. Your app should also solve the needs of the users uniquely. IT should also perform better than other competing apps in the market.
Design is everything
Design involves the UX/UI of your app. Ensure the User Experience (UX) of your app is satisfactory and the appearance app is appealing to your potential users. These are significant features that can make you app attractive to your customers. They should, therefore, you understands the importance of UI UX when developing your mobile app.
Seek the services of a developer
You can now seek the services of an mobile app development company to help you create an app that meets your business needs. You can ask for referrals from your close friends and relatives. You can also check online for app developers. Ensure you check the reviews on their website as well as their portfolio. This way you can be sure you are getting the services of a credible app developer. And that they will provide you with an app that meets your needs.
Develop for Android and iOS
The most common app platforms are the Android and iOS. Creating an app that catered for both platforms is essential will ensure all customers can use your app comfortably. One cheap way of creating an app for Android and iPhone users is by using the cross-platform app development framework.
Incorporate in-app analytics tracking
There are several tools you can use to track analytics. These include Localytics and Flurry. Some of these tools have both a paid and free version. Depending on your budget you can get the tool that suits you best. Analytics are important to check the performance of your app and tracking the behavior of users. Some important things to track include the number of downloads, the rate of retention for your app and user engagement.
Create a feedback channel
It is also important to incorporate features that allow in-app communication to improve customer experience. These features can include an accessible customer service that responds to the needs of users. You could also create a channel within the app where users can leave their feedback and reviews. Such an open communication increases the credibility of your application. If users give good reviews the higher the chances of your app being downloaded and therefore its success.
Conduct an app testing
There are chances users will utilize your app in a way you never imagined. It is therefore essential to test your app before launching it Allowing real users to use your app provides an opportunity to detect any faults within the app. After conducting an app testing, you can get feedback to improve your app and make essential changes. The users can also give you insights that can help you understand the expectations of your customers.
Have a marketing strategy
Once you have your app ready, you need to sell it. You can create developer accounts with the app stores you want to sell your app. Some platforms you can sell your app include Google's Android and Apple. Before you even think of selling your app market it first. A good app marketing plan should be well thought of. You can have your marketing as early as before you share it on app store.
Introduce new features
The first version of an application is usually limited to the core features. Besides, the needs of your customers change with time, and you may need to incorporate a new feature to cater to any demands that come up. The moment you have launched keep on tracking the analytics and feedback to understand which relevant features to introduce. This makes your application more competitive and therefore increases the chances of its success.
In order to develop a successful app, you require a strategy that covers from why you need the app, its creation to the marketing of the app. This will require your time and dedication and keep the needs of customers and those of your business in mind throughout the whole process. Ultimately, you will need to realize a successful app has to give value to the users.
Related Articles:
Importance Of UI/UX Design In The Development Of Mobile Apps
Why is Mobile App Testing Important for Application Development?
How Mobile App Development Will Drive the Virtual Reality(VR) Market?
How to Develop an App for the Internet of Things (IoT)?
Top Reasons Why your Mobile App Fails & How to Make it Successful?
The Ultimate Mobile App Development Guide with Valuable Tips from Industry Experts