How to get more Customers to Review your Business Online?
Alfred
It behooves all online marketing team to understand that your brand is defined by those who experience it. In other words, you're only as hot as your audience says you are. As a result, customer engagement should rank high on any marketers list when it comes to product reviews and the overall customer experience. It shapes the fate of your brand more than many other seemingly important things. People value the opinions and experiences of others. This is why marketers shouldn't overlook this obvious truth but instead look for ways to encourage satisfied customers to talk about their positive experiences with your brand. There are a wide variety of techniques that can be used to achieve this end. In fact, the more methods you have to encourage customer reviews, the better.

What are the Benefits of Customer Reviews?
Quite simply, customer review shapes the relevance and impact of your brand. In other words, the experience of your brand is what determines its reach and impact. As a result, encouraging customers to share their experience is extremely important. In fact, Zendesk discovered that 90% of people were affected by positive online reviews which influenced their buying habits, while 86% of those surveyed revealed that their buying habits were influenced by negative reviews.
People are affected by the experiences of others. In fact, the customer review has the ability to build credibility into a brand or strip it. As a result, it's a good idea to encourage your customers to review your brand. People value the experiences of others when it comes to evaluating the credibility of a brand. In fact, before many people will interact with or try a brand, they search review sites first, just to see what experiences others have had with your brand. As a result, one of the best ways to stimulate conversation regarding your brand is to find multiple ways to ask or encourage the review process. Luckily, there are many creative ways to do this;
Create Profiles on Review Sites
As we all know, there are many websites dedicated to reviewing user's experience with a brand. One way to stimulate talk about your brand and encourage it to be reviewed is by creating a profile n a review site and encouraging conversation about the UX (user experience). This is a proactive move because it encourages a brand to focus on accumulating more positive reviews instead of focusing on a few negative ones. One such site even shows up on Google which can positively impact SEO. Here are more sites that provide the opportunity for customers to review your brand;
Yelp
Angie's List
Google Local
Yahoo Local
LinkedIn
TripAdvisor
CitySearch
TrustLink
Trustpilot (Shows up on Google)
Ask Your Customers
Another effective method of encouraging your customers to review your brand is to simply ask them to. Most customers don't mind singing your praises when they've had a glowing experience with your brand and the best time to ask them to report on this experience is when they've complimented you through an email, phone conversation, or in person.
Ask them to report on their marvelous experience with your brand using their favorite review site as a platform. The more positive noise your brand stimulates in the universe, the better. People value the experiences and opinions of others. They trust reviews. Use this vital information as a springboard to encourage your satisfied customers to talk back in the form of positive reviews.
---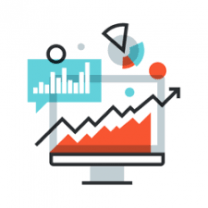 Wondering How to Improve Online Presence?
Dot Com Infoway provides a free consulting session, during which we will do a quick audit of the various aspects of your online presence and let you know how digital marketing can help you boost your business.
---
Make it Easy to Do
One of the best ways to encourage customer feedback is to make it as easy as possible for a customer to expound on his or her experience with your brand. Unfortunately, most people don't need any prodding when it comes to posting negative reviews. This is one reason why you should make it easy for customers to post positive reviews when they've had good experiences. The best way to do this is to post direct links to your review profiles in as many places as possible:
Follow-up Email
Newsletter
Downloadable "Find us on Yelp" Banners
Create Incentives
Sometimes, you need to do a little more to encourage your customers to talk about their positive experiences with your brand. In these instances, it's ok to offer an incentive to do so. However, consider a word of caution when you offer an incentive. Incentives should encourage a review and provide a little dangling carrot to do so. This means that the incentive shouldn't be monetary and the incentive shouldn't force a customer to leave a positive review. You're not encouraging a biased review. You simply should be out to encourage a positive yet honest review of your product or service by giving a small reward just for sharing an experience, no more, no less.
Thank Your Customers for Reviews
Nothing is as charming or effective as a brand that's gracious enough to thank its customers for positive feedback. This act alone stimulates the willingness to repeat this practice when they have another positive experience with your brand. It adds credibility and a personal touch for a brand to reach out and extend gratitude in this manner.
Customers rely on the experience of others to persuade them to try your brand or service. Perhaps this is why review sites are so popular. When a potential customer is inexperienced when it comes to your brand, he or she will look to the experiences of others to guide their decisions when it comes to trying your brand. This is why the more reviews and talk that your brand stimulates the better.
This is an era where people are guided and receive instruction from the experiences of others. This is a highly credible form of persuasion to many people. As a result, make it your business to encourage as much positive feedback as possible when it comes to your brand. It will make a difference in how your brand is perceived, thus improving and expanding your customer base.