How to Improve Mobile App Ranking in Google Play Store
DCI
For mobile app developers, it's no mean task to launch an app considering the high possibility of a similar app existing on the Play Store. Well, this isn't the only hurdle as few applications get the privilege of a good rank in the search box.So far no correct algorithm has been identified by outsiders as Google keeps it a secret thus no dubious means to overpass this. However, several experts have studied the trends and identified various factors used by Google to rank uploaded apps. Below is a list of tips on how to improve mobile App ranking in Google Play store:

The More the Users the Better the Ranking:
Firstly, just like the Search Engine Optimization (SEO), the App Store Optimization works on the basis of the number of subscribers enlisted on the application. In short, the more the number of users or downloads the higher the ranking on Google's Play Store.
Develop a Unique App
Thousands of apps are uploaded to Google's Play Store every year but only 50% are installed and used. This depicts the neck-to-neck competition in app development thus the need for serious developers to design a visible app so as to obtain a higher ranking.
To do so, app designers should be precise on the intended function the app plans to achieve. This will, in turn, see more users install and access the app often.
App Size
It is recommended that applications should strive at having a small size (preferably 5MB and below) so as to ensure that it fits within the storage space available in mobile devices. This can be achieved with the use Lint, 9patch Images, Proguard and PNG optimizers.
Furthermore, the small size will draw the attention of more clientele not to forget that Google's algorithm will list the app among the top on its platform.
Design of the App
Considering the stiff competition in the market, it goes without saying that app developers should come up with thrilling and sassy designs so as to remain relevant. Also, the first impression matters a lot to the audience as a sophisticated outlook will definitely attract more customers to the iOS app.
Moreover, developers should be able to have clear representations and specification of what the app entails.
---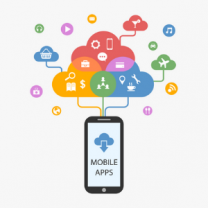 Need Help to Improve Your Mobile App Ranking in Google Play?
Get a chance to work with award-winning mobile marketing experts.
---
Optimize Mobile App for Quick Store Search
Use of App Annie– this tool aids developers to identify keywords that will reflect once users search for the app. This will attract more organic traffic flooding to have the application installed on their devices.
App naming and title– for app creators it's prudent that they use keywords that are easily identified by their users. By all means, developers are advised to evade use of titles associated with popular apps. This will ensure that the algorithm won't replicate these apps in the search box and a good ranking.
Retention Time
Another criterion used in ranking apps on Play Store is the duration an app is installed on a user's device. This implies that the developer should follow up on the "lifespan" of their apps which can be achieved by having a clear description and excellent performance of the app. It should be noted that longer installed apps get a higher ranking and vice versa. Google's algorithm monitors on the frequency of installation and uninstallation occurring.
Maintenance and update
Now it's very important to note this especially for any app is to attain a high rating as developers are urged to ensure that they get rid of all bugs. In most cases, it encompasses the release of updates to add more features and resolve issues on older versions of the application. The online platform appreciates developers who pay great attention to their clientele and address matters arising.
By updating the app, the developers get to win the heart of more users as they are satisfied with the services offered. So work on this!!
Ratings and Reviews
Several experts have identified that majority of users rely on reviews and raking of the app to choose which application to install. Thus for any app to attain good ranking it should target on having more positive reviews and should include a call to action button for users to leave their comments.
As for the rating, Google ranks high less popular apps with fewer downloads but high rating compared to apps with more downloads and having a dismal rating.
Develop Compatible Apps
This is crucial for app creators who are advised to come up with an app that is responsive to mobile and tablets on the market. Looking further and it's noticeable that Google's algorithm favors applications that integrate easily into tablets giving them a higher ranking.
Other ways to improve the Mobile App Ranking on Google's play store include:
The continuous engagement between app marketers and users via social media is resourceful in having more users which are associated with good raking. Google uses +1s to refer users to related apps which mean that those with better links will benefit from having more installs and hence good ranking.
Under this, creators should come out clear on the scope covered by the app so as to reach out to the correct users. The Play Store rewards target oriented apps over generalized ones giving them a better ranking in search results.
The use of videos, graphics and screenshots
As part of elaborating on the functions performed by the app, it is advisable for developers to incorporate video clips or screenshots that showcase the app's interface. By doing so the app wins a better ranking on the Play Store.
Though not a direct determiner of app ranking, indexing on Google will attract more traffic to the application which leads to good ranking.
In summary, app marketing agency or app developers should dedicate their focus on having their apps visible on the ASO and win a good ranking not forgetting the ever-growing number of applications launched on the platform. Now, this is achievable if the app designers choose to use the outlined tips to improve mobile App ranking in Google Play store platform.
Related Articles: