How to Increase Engagement using Mobile Deep Linking
DCI
Every app developer understands that it's just not enough to simply launch an app. There are many steps required to ensure its success. The process of getting users to install the app, keep it, and then use it can be a real job. However, any app developer that wants to be successful understands that the more actively engaged the user is with the app the better. As a result, many app developers are using deep linking as a tool to increase user engagement.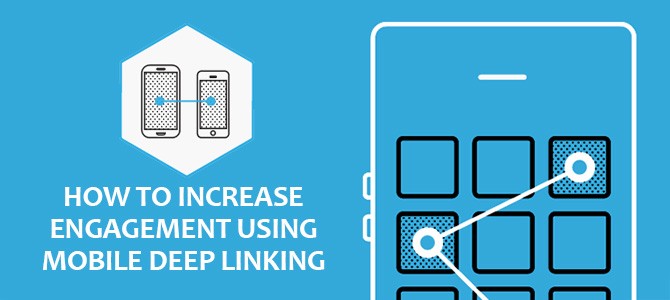 Traditional Hyperlinks Don't Work in the App Mobile World
Mobile deep links allow a user to link directly to an app without a generic welcome screen. This is invaluable because mobile users aren't able to connect directly to an app using traditional hyperlinks, which often leads to slower growth, retention, and conversion rates. Mobile deep links add convenience for the mobile user by allowing them to link directly to a screen within an app. This ability mimics the seamlessness of the PC experience by making it possible for the mobile user to link to an app from a mobile web page, email, SMS message, or while using social media. The ease and convenience created by deep linking lead to more use of an app, which is an increase in engagement. This, in turn, creates a domino effect of positive results when it comes to retention and conversion rates as well.
Deferred Deep Linking
Deep Links work well when a user already has a particular app installed, however, if they don't, deep linking is ineffective. This has given rise to deferred deep linking as a solution to this problem. Deferred deep linking allows a user to install and launch an app and then send the user to a particular screen or location within the app, immediately after the install. In essence, two steps are accomplished in one. Deferred deep linking solves the common problem present when a user hasn't installed a particular app yet. Without the app, a user can only be redirected to a mobile web page where the app can be installed, or to an app listing page in a mobile web store. Neither result yields an authentic initial experience with an app because both results lead the user to a generic welcome screen. A deferred deep link solves this problem by waiting for the user to install the app and then using the pre-install data from the web store which allows the app to display authentic information, instead of generic, that the app developer wants the user to see.
Deep links and deferred deep links bolster engagement by optimizing acquisition sources by exposing which sources are used the most, and by bolstering organic campaigns through the utilization of information about users, and by personalizing the user experience with specific user information that makes this possible. Deep links take away many of the limitations of the mobile web by using user data to effectively optimize and personalize the user experience. This is perhaps why deep linking is a tool that any app marketer can and should take advantage of.