India is Set to Bypass Both Russia & Brazil in Mobile Gaming Revenue: The Indian Game Market – Series 5
DCI
India has claimed the fifth spot in the mobile gaming market. Mobile game downloads and rising revenues have helped India level up quickly, and there's no slowing down in its ascent. San Francisco business intelligence firm, App Annie released a report on the country's mobile gaming industry which revealed that India leveled up two places in 2016 over the previous year. With this type of growth, India is expected to move ahead of both Brazil and Russia, who currently hold the third and fourth places in the mobile gaming industry.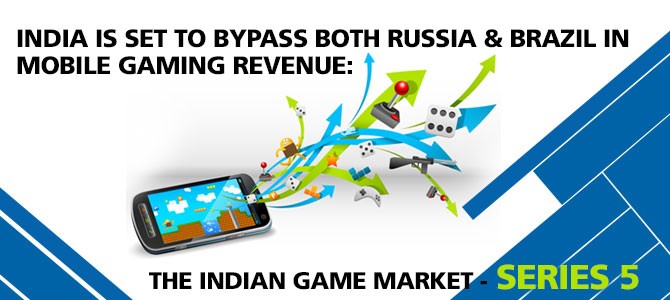 Mobile Gaming Revenues are Exploding
The total game revenue in India from both local and foreign contributors is expected to reach $1.1 billion by 2020. Cash-based strategy games have grown in revenue by 140% over casual games in 2016. Much of this growth can be attributed to the increase in smartphone use; With console gaming giving way to mobile gaming as a result of improved wireless connectivity in the country as well as the increase in smartphone use. The rise in revenues can also be connected to the fact that India is within the top 25% globally for mobile user retention. Indian users are typically still using an app 14 days after a paid install. This is significant considering the global average use of an app after 14 days is less than that of Indian users.
Mobile Downloads Continue to Rise
Indian downloads were set to double to 1.6 billion in 2016 and those numbers have continued to climb. The forecast is that this number will rise sharply to 5.3 billion by the year 2020. According to VMAX, Indian Google Play had 492,553 apps available in March of 2016 and 145,208 of those apps were games, further contributing to the increase in downloads and revenue. The sharp increase in downloads as well as a 30% increase in time spent gaming on mobile devices, is a strong indicator that monetization will be the next big area of explosive growth.
Google Play Vouchers, Carrier Billing, and IAP Tiers
With all the methods available to make mobile gaming more accessible, the numbers continue to increase. Prepaid google play vouchers, carrier billing, and lower IAP tiers make mobile gaming much more readily accessible. This factor can also be attributed to the growing number of engaged gamers spending more time and money paying for in-app purchases. This factors into the 87% increase in revenues that will drive the Indian mobile gaming industry to $1.1 billion by 2020.
The mobile gaming industry in India has continued to experience explosive growth and is set to continue its ascension. With the number of apps steadily increasing on google play, as well as the number of downloads taking place, the Indian gaming industry is set to bypass both Russia and Brazil, as revenues continue to rise aggressively. With all the methods available to pay for mobile gaming, there's no stopping this rapid growth.