Infographic: Predicting Consumer Behavior with Data Analytics
DCI
Predicting the ever-evolving consumer behaviour is one of the biggest challenges faced by marketers around the world. Well, it has always been a challenging task, but today, it is even harder as consumers are constantly being exposed to new technologies, products and even new wants! With a plethora buying options to their disposal, today's consumer behaviour flickers way too often. Now, thanks to the advent of e-commerce and mobile commerce, buying a product or service is not a simple task it used to be. As they say, 'Choices make life more complex,' buying a product or a service in the present era is accompanied by a lot of comparisons and checking out for deals. Businesses face the brunt of this as many a time, after spending a good deal of money to promote their products, customers often leave the product in the shopping cart – never to return!
While all this is heart-wrenching for the businesses who keep losing the sale to competitors, all hope is not lost. Smart marketers put their money on data analytics to best understand their consumer behaviour.
Marketing cannot happen in isolation – a mere positioning of product to a potential buyer is not going to make the sale. Converting an interested buyer into a customer, in the era of digital overexposure, requires a deeper scrutiny of users' digital movements. This involves tracing the digital footprints of your prospective buyers with the help of smart and intuitive data analytics tools.
Dot Com Infoway, an award-winning CMMI Level 3 Digital Marketing Company, has recently launched a comprehensive infographic titled 'Predicting Consumer Behaviour with Data Analytics.' The easy-to-understand infographic explains why it is important to analyze customer behavior. And with engaging charts and graphics, it lists online shopping behavior of an average online buyer along with a mention of sites where consumers share feedback about products and services. Next, the infographic lists down the steps involved in making a purchase as well as informs about the models of consumer buying behavior process.
The highly educating infographic ends with explaining various types of predictive modeling. All the facts and stats provided in the infographic are taken from credible sources including KPMG, TDWI and Optimove.
Tapping into the consumer behavior is key to increasing online sales, and marketers around the world can benefit by gaining a better understanding of how to track their target buyers' behavior. The infographic from Dot Com Infoway can certainly be a helpful tool in knowing how to track your customers' behavior.

---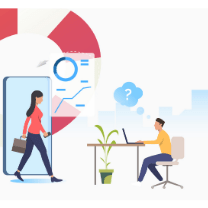 Work with the Experts!
Contact us now to know how we can help you in predicting customer behaviour using your analytics data.
---
Predicting Consumer Behavior with Data Analytics
Top Reasons to Analyze Customer Behavior
Gain insight – Segmenting customer database with cluster analysis to identify consumer segments
Attract and engage – Targeting the segment of customers with right offers by analyzing historical purchases and profiles
Improve retention – It enables companies to calculate customer value and put proactive retention approach to retain customers
Why has customer behavior analytics become a vital tool for ensuring marketing success?
The number of online shoppers in US is projected to reach 224 million in 2019 (Statista 2017)
M-commerce will reach $284 billion by 2020 (BI Intelligence)
Excerpts from the studies on consumer behavior by KPMG reveals the following:
Online shoppers' behavior:
42% – Researching about products
21% – Reading expert & user reviews
16% – Price comparison sites
14% – Searching discount coupons
Most important attributes when deciding where to buy:
36% – Best price
30% – Preferred website
17% – Best delivery options/price
14% – Stock availability
2% – Peer advice
1% – Returns policy
Sites where consumers shared feedback (%):
Seller's website – 47
Facebook – 31
Manufacturer or brand website – 18
WhatsApp – 17
Instagram – 12
Online forum – 11
WeChat – 11
Blogs – 10
Twitter – 9
YouTube — 4
Snapchat – 3
Pinterest – 3
Others – 21
The path to purchase journey:
Awareness – Triggers and Influencers
Consideration – Product and Company Research
Conversion – Where and When to Buy
Evaluation – Experience and Feedback
Models of Consumer Buying Behavior Process:
Economic model
Learning model
Psychoanalytical model
Sociological model
Major Types of Predictive Modeling:
1. RFM Model
Recency – customers who have spent money on a product or service in the recent past are more likely than others to spend again
Frequency – customers who spend their money repeatedly on a business are more likely than others to spend again
Monetary – customers who have spent the most money at a business are more likely than others to spend again
2. Black-Box Model
External stimulus response – factors leading the customer to make buying decisions:
Environmental stimuli – Economics, Technology, Culture
Marketing stimuli – Product, Price, Promotion
3. Personal Variable Model
Consumers make decisions based on internal factors.
Personal opinions, belief systems, values, traditions, goals
4. Complex Model
This model considers both internal and external variables
5. Contemporary Models:
Nicosia model
Howard-Sheth
Bettman
EBK model
Markov model
Statistical Analysis and Market Research Tools:
Conjoint analysis
Hypothesis Testing
Tests for statistical significance
ANOVA: The analysis of variance
Discriminant analysis
Factor analysis
Cluster analysis
Multiple regression analysis
Efficiently integrating customer behavior data into marketing strategies help companies / brands improve their approach towards attracting and winning the diverse and dynamic customer segments and retaining them online.
Related Articles: 
Embed this Infographic on your site:
---