Best Practices to Generate High ROI using Mobile App Advertising: An Interview with Silke Glauninger of App Radar
Alfred
For recent years mobile and in-app advertising have been the branches of a digital advertising that saw the fastest growth and technological innovation pace. Recently we had the chance to interview Silke Glauninger of App Radar, an expert in mobile games to tell us her best insights.


Silk Glauninger, is Head of Marketing at App Radar, a self-service tool. App Radar is the first ASO workflow tool available. That means it's a kind of App Store Optimization tool that doesn't only allow you to analyze an app's store visibility but also helps in taking action immediately.
Here are the 10 questions and her winning answers:
1. What is the current scenario in the mobile advertising industry?
App marketers spend a lot of money on mobile advertising. The spendings for mobile advertising have already overtaken desktop ad spending. Nevertheless, it's crucial to keep an eye on the Return on Investment. Taking into consideration the average lifetime value of mobile app users acquired through advertising compared to organic users, you can see that the second group includes the most loyal users. That means, successful app marketers nowadays count on a carefully considered marketing strategy consisting of organic UA tactics and advertising methods.
2. How and why App Radar fits into mobile advertising space?
Mobile apps have transformed people's everyday lives. At the same time, people are aware of advertising, which makes it less impactful. Further, lowering User Acquisition Costs is what app marketers strive for. That's why there's again a trend towards organic user acquisition.
It's critical to offer your product to the right people at the very moment they are looking for it. Thus, app store (search) optimization is and will always be a central tactic in mobile marketing. That's what App Radar supports you with.
3. Who is the target audience and how will they benefit from App Radar's platform?
App Radar was built for app marketers, user acquisition managers, app developers and anyone else, who's responsible for app store marketing or release management.
It provides analysis functionality and hands-on features to cut the ASO execution time by up to 90%.
4. What advice do you feel is most important for app companies getting started with ASO?
App Store Optimization is not a one-time shot. Like most organic user acquisition methods, ASO demands iterative improvements and regular updates. However, when using the right tool(s), ASO isn't that complex as it is often imagined.
5. How is technology being used for data analytics?
At App Radar, we are using AI approaches to support app marketers in finding the right keywords to track and to provide optimization suggestions based on individual app metadata and current drafts.
---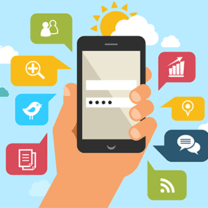 Expert Insight on Mobile App User Retention
 An Interview with Shieny Aprilia of Agate International shares her insights on best Practices for increasing mobile app user retention & engagement.
---
6. What is the best option to monetize a mobile app?
Which monetization model to choose strongly depends on the app's category and type. While it's very common for fitness and health apps to offer subscription plans, games and entertainment apps have the best prerequisites for monetizing through in-app purchases or in-app ads.
In any case, you should keep in mind, what's your app's value proposition and what's your target audience like.
7. What KPIs do you control every day? Which ones are the most important?
Besides keyword rankings, mobile app marketers should always keep an eye on their downloads, impressions, sales and conversion rates. On a regular basis check KPIs like LTV (keep user sources in mind) and ROI per user acquisition channel.
8. How is App Radar differ from other ASO tools?
App Radar is more than a simple ASO tool. It provides time-saving features to help you along your ASO workflow.
For example, you can easily edit app store metadata for all your iOS, tvOS and Android apps in one interface for several languages right when checking your keyword rankings. At the same time, you receive optimization suggestions to get the most of your metadata.
This saves time and effort in app store marketing.
9. Key tips to developer/marketers on improving ASO
Keep in mind the big picture: App Store Optimization is more than just keyword research and optimization. App Store Optimization done right further demands taking care for conversion optimization or asset optimization.
It's not a one-time event: Regularly analyzing keyword rankings and pushing app updates is essential to stay ahead of your competition. Using the right tool(s) can improve efficiency.
Localization matters: Something, many marketers forget is that localizing your app listing can have a massive impact on improving conversion rates and app store visibility.
10. Lastly, what do you see as the future of mobile marketing?
The effective targeting of customers is and will be the central goal of mobile marketing.
I think user acquisition costs will increase. That will make it even more important to address the right people through the right medium. As a result, mobile marketers will thoroughly think through their marketing strategies to find the best methods to address their target audience.
Also, artificial intelligence will play a great role in mobile marketing. Marketers are aiming for efficient workflows and strive for help when taking the right decisions.