iOS 15 Is Here – Discover the Changes in App Store Optimization (ASO) Strategies
Venkatesh C.R
iOS 15 servers as one of the keynote unveilings in the 2021 Worldwide Developers Conference. Even before its advent, there has already been plenty of anticipation with regards to what to expect from the said update.
iOS 15's revelation is considered by many app marketers to be one of the most pertinent to them since iOS 11. This is because organic user acquisition and marketing are some of the main themes behind the said changes. True enough, that's what was revealed in the first half of the WWDC 2021, which is set to run from June 7 to 11 this year.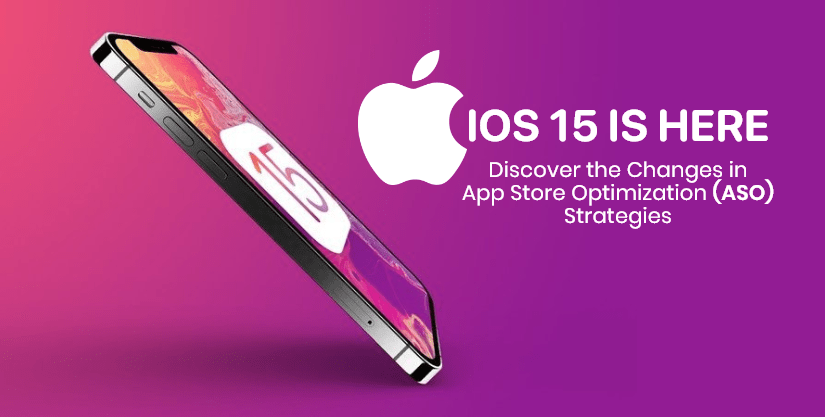 With that considered, iOS 15 deviates largely from its predecessors, which were more concerned with user experience before anything else. What are the exact changes that marketers are excited about? More importantly, what does it mean for ASO going forward? Let's find out.
A/B Testing: The Answer to Google Play's Feature Preferred by Many Marketers in the Past
One qualm marketers had with the App Store is that it lacks tools that proactively help them in their campaigns. Google Play had this feature for years, which is why many marketers pivot to that platform instead. That's all in the past now since A/B testing is now also available in the App Store.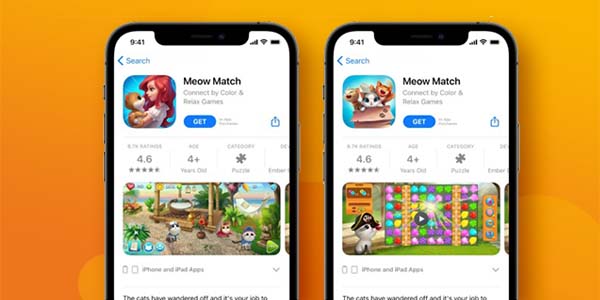 Are there differences that make it stand out or even better than what Google Play has to offer? Well, you be the judge by reading this list of what makes Apple's offering unique:
Testing new icons requires them to be integrated with the app binary during the development phase.
Any asset you submit will undergo a review process by the Apple team before testing can be done.
You will only be able to test Apple creatives. The scope excludes titles, descriptions, and subtitles.
Take note that this list only provides a partial view of the disparity between the two platforms. Incidentally, one notable similarity is the total variants you can work with. Like in Google Play Experiments, up to four variants, including the original one, are allowed.
Since we're bound to receive more features and positive distinctions in the future, this provides Apple with an opportunity to overtake Google Play. If mobile app marketers and anyone providing app store optimization services can get more convenient and reliable, specially made aso tools for iOS 15 as a result of this update, these can significantly decrease the barriers to entry into the platform.
Already, it's beginning to look like marketers won't have to rely on third-party tools for A/B testing anymore. That's obviously a good sign that we're headed in that direction.
In-App Event Cards for Smooth Promotion and User Engagement
These cards can be created in every user's App Store Connect console. What's notable about them is that you can input metadata into them so users may discover the cards on the product page. They can also be revealed in the Search and Browse functions of the App Store.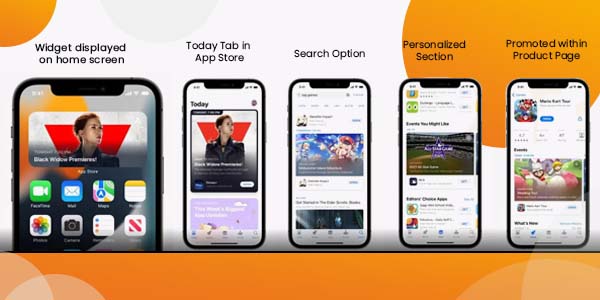 Apps that create event cards also have a chance of being featured on the App Store main page, along with a real-time countdown, so users will always have a ready reference.
When creating events, you will have to specify the exact regions they would be available in. Besides the ability to enter metadata, you may also set the conditions for which the event would be made available. Will it be accessible after a subscription or a specific in-app purchase?
You may enter pertinent details about the event with specific character limits in mind. You may input the event name (30 characters), a short and long description (50 and 120 characters, respectively), and an image or video that doesn't exceed 30 seconds.
---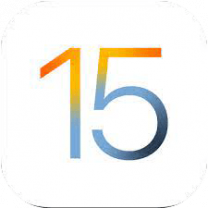 Are You Looking for iOS 15 App Store Optimization Services?
Our Mobile app marketing experts provide the best ASO services for iOS 15 to improve your ranking and visibility. Be aware of iOS 15 effects on marketing & get ready to stay in the top Search even after iOS 15 roll-on.
---
Search Results Changes Boost App Visibility
Speaking of cards, search results will now display apps in short cards that contain their name, icon, a short description, and overall rating. The most pivotal change, though, is concerned with the positioning of apps, installed or otherwise, on the first screen.
Now, along with the first three installed apps being displayed relative to a specific search query, a fourth new, readily downloadable app will also be included on the first screen. How is this made possible? By removing the screenshots for installed apps. Only the uninstalled apps will reveal screenshots. This obviously exerts a big influence on ASO as a whole.
Custom Product Pages that Make Promotion Easier
This is another product that's concerned with variations. In this case, you can create up to 35 different versions of your app's product page. That's 30 more than what can be created in Google Play, and that's definitely bound to turn marketers' heads. These pages allow you to offer and test different combinations of descriptions, copy, app previews, and screenshots to cater to various user personas.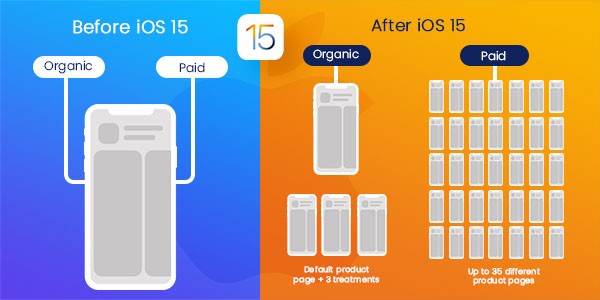 Every page you create will be assigned its own URL, which can serve to boost your ad campaigns. How? These pages can only be accessed by web referrers and app traffic. Take note that like the A/B testing iOS 15 features, any custom page you submit will be subject to a review. So far, these are the sole details available given by Apple. However, we need to underscore what makes it different from Google Play.
It's important to take note of a few disadvantages like the following:
Apple's targeting system only limits custom product pages to customers coming into the store externally.
You can't change the app's title, subtitle, and icon on any custom product page you create.
One notable advantage is that Apple now lets advertisers receive SKAdNetwork postbacks directly. In the past, they often have to rely on third-party advertising networks as their sources of postbacks. Incidentally, this has implications that involve Facebook and Google ad campaigns. For one, iOS app marketers can use the SKAdNetwork postback records they receive and use them to audit the ones provided by Google and Facebook.
There's More to Come
Many people think these updates are long coming, and it's high time for them to be done by iOS 15. iOS 15's slated September release has already confirmed that we can also look out for features such as redownloads and new metrics pertaining to app analytics. And that's just the tip of the iceberg.
This is why we couldn't agree more with the highly expectant crowd and won't hesitate to say that we're also eagerly looking forward to the other changes that we can expect in the future. With two decades of experience in Marketing industry, we'll be the best iOS 15 ASO Company & handle all the effects from the update.
Image Credit: Apple