iOS Holds 65% of Mobile Web Traffic
DCI
According to the latest report released by NetMarketShare, Apple's iOS stayed on top of Internet usage by holding a major share of mobile Web traffic.
NetMarketShare's report on Internet usage by mobile devices shows that the mobile Internet market share of Apple's iOS continues to grow steadily. iOS captured a global traffic of 65.3% in June this year, which is an increase from 52.4% a year ago. Android, which is the closest rival of iOS, held 19.7% of the mobile Web market share as of June 2012, which is an increase from 14.3% in June last year.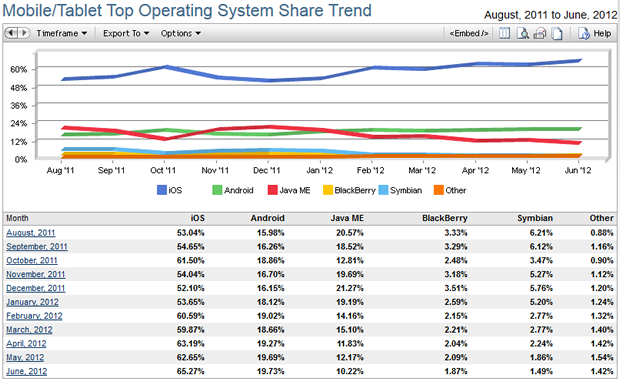 While considering the results by device, the iPad dominated other smart devices in June with a 36.7% market share, followed by the iPhone with 26.8%. Android 2.3 took up the third position while the other Android versions were scattered among the 24 mobile operating systems tracked in total.
Mike Schramm of tuaw.com reported, "…users are depending on them [iOS devices] more and more for connecting to and interacting with the Internet. It's also worth noting that iOS users are generally heavy 'net users as well. Even though there are more Android phones out there, iOS users are browsing enough to keep the totals in their favor and growing."
NetMarketShare compiled its results from the browsers of visitors to its network of more than 40,000 websites.