IoT Webinar: Influence of Mobile Apps in the Growth of Internet of Things
DCI
Mobile apps have greatly influenced the way we conduct our lives – omnipresent in every aspect, from business organization to man management to accessing future technology such as VR and IoT, mobile apps are constantly redefining how we interact with the world.
IoT refers to the Internet of Things – it is a concept that envisages all machines to be connected to the Internet, to send and receive data, making it possible to control them remotely. Conceptualized in the late 90s, today, IoT is a reality, thanks to the advancements in mobile technology, particularly the growing demand for mobile apps that have revolutionized how people interact with machines in their daily lives.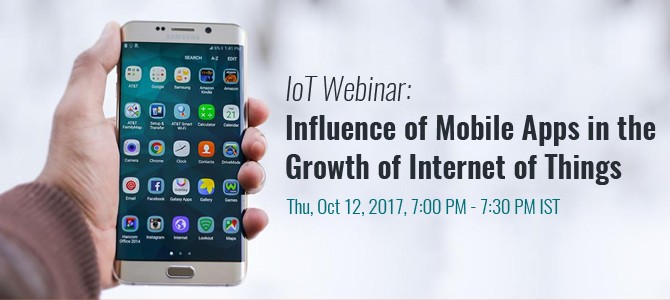 It goes without saying then, mobile apps hold the key to the future – unlocking new business strategies using future technology such as IoT. To help business owners and app developers gain a better understanding of the subject, Dot Com Infoway is organizing an in-depth seminar on the topic,"Influence of Mobile Apps in the Growth of IoT" on 12th October 2017 from 19:00 hrs to 19.30 hrs IST.
Mobile devices, with multiple connectivity options, are turning IoT applications into reality. Soon enough, it will be possible to use apps on your mobile phone to manage your home or control devices such as your air conditioner, remotely. This will create a plethora of opportunities in every field – be it travel, retail or healthcare – considering there would be more than 50 billion connected devices by 2020, as estimated currently.
Key Takeaways:
1) What is IoT?
2) The future of the Internet of Things (IoT)
3) IoT applications spanning across industries & challenges
4) Role of Mobile Apps in revolutionizing the world of IoT
How have mobile apps influenced IoT

Building mobile apps for IoT devices – sensor driven IoT

Mobile app integration
The webinar will educate participants on the applications of IoT and how to build mobile apps for IoT devices. It will be presented by Chella Shankara Narayanan J, Vice President (VP) – Sales & Operations, Dot Com Infoway.
Mr. Shankara is a seasoned business leader with more than a decade of experience in web and mobile technologies. In his decade long experience, he has dealt with many enterprise clients like Nestle, Johnson & Johnson, Boston Scientific, Times Inc., etc. to name a few. Mr. Shankara, who has also helped many start-ups and small and medium level entrepreneurs take off, is the go-to man when it comes to technology-related challenges and framing successful business models. Participants will gain immensely from his rich experience.
The future of human and machine interaction lies in your mobile device – and now is the time to leverage this trend and gain the first-mover advantage.
Hurry. Only few spots available to register for the free webinar.