iPad Accounts for 94.64% of Tablet Web Traffic
DCI
According to a recent report released by the online advertising network and web analytics firm Chitika, more than 94 percent of Web traffic from tablet devices comes from Apple's iPad.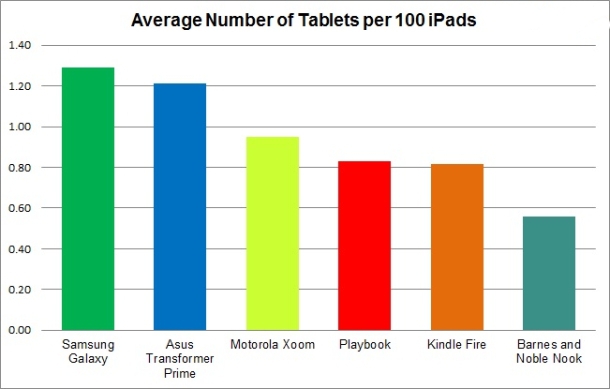 The report says that the iPad accounted for nearly 94.64% of the total Web traffic among tablets whereas the Samsung Galaxy series held 1.22% of the overall tablet based Web traffic. Asus Transformer Prime stood almost equal to Samsung with 1.20%.

Motorola Xoom and the Playbook took the third and fourth places with 0.90% and 0.81% of traffic share respectively. Kindle Fire grabbed the fifth position with 0.80% while Barnes and Noble Nook came in last with less than 0.60% of tablet Web traffic.
Chitika said, "Going forward the competition is going to be hard pressed to find a way to overthrow the seemingly omnipotent Apple. Not only do they offer a great product they have the undying devotion of their enthusiasts."
While speaking about the success of the iPad, Chitika said, "Apple produces a product that is both aesthetically pleasing and technologically robust."
Chitika also mentioned in the report that the tablet has become a popular computing device and Asia will be a hot market for tablet devices in the near future.
Dot Com Infoway is an iPad app development and marketing company with many popular apps to its credit. To know more about our services, visit our iPad app development page and Mobile apps development page.