iPad's Share May Drop to 62% This Year
DCI
According to a recent report released by TrendForce, Apple's iPad market share will fall to 62% this year because of the stiff competition from Android devices.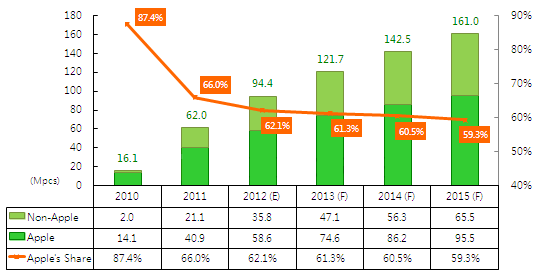 In 2010, Apple had 87 percent of the market share. Apple sold more than 41 million tablets last year which was about 66 percent of all tablets sold. According to the estimates of TrendForce, the market share of Apple will dip to 62 percent this year. That is, the total sales of tablets will amount to more than 94 million in 2012 and Apple is expected to sell 59 million iPads.
Although its market share has been falling every year, Apple will continue to be at a dominant position. TrendForce says that Apple's market share would not drop below 60 percent until 2015. It also pointed out that the rival Amazon could not match up to consumers' expectations for long.
TrendForce said, "According to the component makers, Amazon's orders for panels in 1H12 decreased, which suggests at the time being, Kindle Fire is still unable to threaten iPad's leading position."
Dot Com Infoway is an iPad app development and marketing company with many popular apps to its credit. To know more about our services, visit our iPad app development page and Mobile apps development page.