Latest from the App Store: September 12, 2012
DCI
Are you looking for apps that you could download? We would like to help you in picking up the latest and the most interesting apps every day. Have a look at the ones listed below. We have hand-picked the best free and paid apps in the entertainment and games category today from the app store. Download them now!
Apps listed:
MissionGame, TAM 2012 AR, Col the Colorful Cat, Press The Red Button, Blue Libra 2 Lite, SudoFeud™ Free, Wingsuit Stickman Free, Ragdoll Toss!, Wordswap Cash, Runic Rumble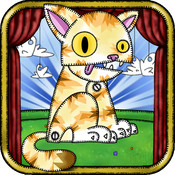 Col the Colorful Cat – Price: Free
Publisher: Smart Way Games
Bring back color to the world!
Col is a very playful cat who lives in an old theatre. His favorite play is about to start the very next day, but the scene's colors have been washed away by the last night's rain. Help Col bring back colors to the world and make him happy again.
Bringing back happiness is a lot of hard work. You will need to collect rainbow pieces which Col uses to restore some of the color to the scene.