Latest from the App Store: September 24, 2012
DCI
Are you looking for apps that you could download? We would like to help you in picking up the latest and the most interesting apps every day. Have a look at the ones listed below. We have hand-picked the best free and paid apps in the entertainment and games category today from the app store. Download them now!
Apps listed:
GalaxySnake, Slap Vote – Obama and Romney, Pumpkins in a Pocket Garden, RiotCast, Blackbear the Pirate Augmented Reality Viewer, Word Camel, Living Mandala, My Little Fish, Pimple Popper: Pimplefy My Face, Tap Zombie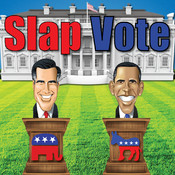 Slap Vote – Obama and Romney – Price : $0.99
Publisher: NIftyBytes
Add a little FUN to your election season! How? By slapping politicians on your iPod Touch, iPad or iPhone. Slap Vote is like that fun carnival classic "Wack-A-Mole", but with politicians. In this case, Obama & Romney, with assists from W and Clinton. The game is simple – choose who you are voting for. If you are voting for Obama, then game starts and you have to slap Romney as he pops up.