Latest from the App Store: September 27, 2012
DCI
Are you looking for apps that you could download? We would like to help you in picking up the latest and the most interesting apps every day. Have a look at the ones listed below. We have hand-picked the best free and paid apps in the games category today from the app store. Download them now!
Apps listed:
PapiTap, Pennys Pieces Lite, CaliCats, Farm Frenzy 3 – American Pie, Draw Me a Treat!, Amazing Runner, God of Blades, Slender-Man, Cartoon Wars Blade, Life & Death PRO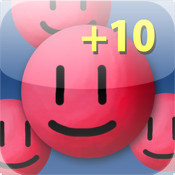 PapiTap – Price : Free
Publisher: Sunflat
OMG! Too many Papis (red ball guys) drop down from the sky.
Tap Papis to keep them on the screen.
– Every time you tap Papi, he becomes smaller, and you get more scores.
– If all of Papis fall out of the screen, the game ends.
– This app doesn't support multi-touch so that you can play with only one finger.