Lead Generation with Social Media Ads
DCI
Lead generation tools are vital for marketers, particularly those in the B2B sector. However, you might be missing out on one of the most important tools available to you because you think of it more as a method for building brand awareness than for lead generation – social media. Social networks are powerful solutions for businesses of all types, in all sectors today, but you need to know how to leverage them as lead generation tools AND as brand awareness vehicles.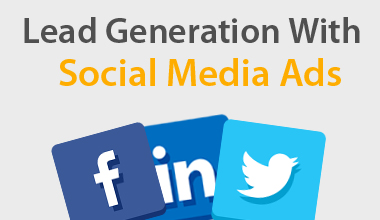 Know Your Networks
There are dozens of social networks out there, but in order to maximize your results, you need to use the right ones. Currently, the three best options are Twitter, Facebook and LinkedIn.
Twitter offers promoted tweets, as well as the ability to sign up as a "promoted account" which gets you featured in locations such as the Who to Follow box. Twitter's lead generation cards are perhaps the most valuable tools, and enable you to collect the email addresses and names of potential leads right from the tweet stream.
Facebook offers a range of lead generation tools, including the network's traditional PPC-type ads, as well as promoted posts. Link out from your FB ads to a lead generation form/signup form. If you're an app developer, you can also benefit from the company's mobile install app ads that send users directly to your app download page from their device.
LinkedIn also offers ads, and you can link to a custom URL (such as a custom-created lead generation form). These ads work almost identically to Facebook's system, as well.
About Social Media Ads
Now that you know a bit more about creating an effective landing page that actually makes your visitors want to take action as opposed to running away, let's talk about ads. There are several key factors that need to be present if your ads are to drive traffic where you want it.
First, your ads need to drive traffic to your destination page. That should be obvious, but too many business owners and decision makers choose to drive traffic somewhere else (their main Facebook page for example). Drive traffic where you NEED it – to your signup page.
Second, make sure you combine text with visual graphics. Visual elements are digested far more quickly than heavy blocks of text. With social ads, you may or may not have the ability to use graphics. For instance, Facebook ads need a graphic, but promoted tweets on Twitter don't require one (but they've added the ability to share photos directly in the stream, so it's possible). Make the most of humanity's love of visual content and create effective graphics that combine text and pictures to pique curiosity.
Third, and arguably most importantly, track the success of your campaigns. You can use a variety of tools for this, including Google Analytics and Facebook's ad campaign tools. Twitter also offers basic analysis tools for marketers using their ads. Without tracking, you have no way to judge effectiveness and make necessary changes and tweaks to your ads (and you'll need to tweak things along the way).