LinkedIn for Lead Generation
DCI
LinkedIn is an interesting and professional social networking site. Many users want to connect only with people they already know in their network, but unless the network is big enough, the benefits of using LinkedIn becomes minimal. The primary goal of LinkedIn is to connect people who already know each other personally to create a network based on "trusted relationships." There are many restrictions in LinkedIn to prevent potential spamming.
Sales and Business Development professionals of companies regardless of their domain are interested in getting business leads through LinkedIn. LinkedIn is a valuable sales prospecting tool that way. The following are the key points that make LinkedIn different from any other social networking sites like Facebook, MySpace, etc.
LinkedIn has a huge database of more than 60 million professionals
45% of LinkedIn users are business decision makers
LinkedIn has Executives from each and every Fortune 500 company
Average household income of LinkedIn users is $100,000.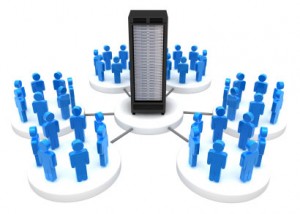 LinkedIn can be used to find gigs, sell products, expand your networks, grow your business and gain free publicity. Here are some simple strategies to help building pipeline for your business in LinkedIn.
Finding Business Prospects
LinkedIn provides an Advanced People search functionality to search for your potential customer. It also helps you to map out your clients and connect to them in a business way. By being active on LinkedIn, you can also establish yourself in your business sphere.
Getting New Partners
LinkedIn helps in searching for business partners/associates to gain referrals, share leads, and to close deals. There are a lots of people looking out for potential partners in LinkedIn. Groups, Q & A Sections and Search function can be used to spot them.
LinkedIn Profile Optimization
LinkedIn is not only about finding others but also about being found. Your personal professional profile or the profile of your company should be completely filled out with the appropriate keywords. LIPO: LinkedIn Profile Optimization is same as Search Engine Optimization (SEO) for Google. LIPO is part of one's Inbound Marketing strategy.
LinkedIn Q & A Section
We can find lots of business people with real problems looking for solutions in LinkedIn Answers Section. There are many spam and unrelated questions in Answers boards, so follow the categories that are most applicable to your industry to filter out the noise. Subscribe to the RSS Feed as well. Just spending few minutes a day ing the relevant Answers Boards may provide with a quality new lead.
Join Groups Where Your Potentials Are
These are many communities available where there are Discussions, News and Jobs postings. LinkedIn also provides a chance to participate in discussions and develop relationships. This will help in gaining mind share in the industry and people will contact you when they are in need of an answer. This will put yourself in the driver's seat of your business.
Promote Events for Free
Similar to Facebook Events, LinkedIn also has an Events application. It is one of the important viral marketing tools that are available in LinkedIn. Sharing expertise in social media is one of the most important investments for businesses in the web. And once it shows on your profile that you are attending a particular event, anyone who views your profile will see the advertisement for the event. And if they sign up for Events, they are now advertising the event on their profile!
Creating Company Profile
Creating profile for a company in LinkedIn is a simple process so make sure that you register your company and be found. It's free and even a sole proprietorship with an email address in a registered domain can have a profile.
LinkedIn is a valuable business social network that every business should be using. LinkedIn is a great platform to research and get connected with potential customers and industry experts. The key to it all is figuring out the balance for marketing, since many enterprises/companies still get a lot of business through personal referrals, and there is every chance of your picking up over time from electronic leads which are generated through social networks like LinkedIn.
Dot Com Infoway helps clients market their products/services through cost-effective Internet Marketing and Social Media Marketing solutions. To get a free quote for these services, contact us.