Make your App Hit It Big This Holiday Season
DCI
The holiday season is not only known for giving gifts, it's also the season for mobile apps. During the season, there is a spike in mobile app installs across iOS & Android devices. According to Flurry, the number of US app installs on Christmas day was 2.5 times  larger than an average December day. In 2014, the number of app downloads saw a 91% jump in numbers in the week before Christmas.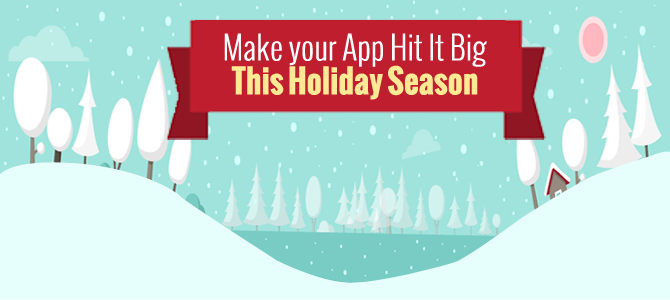 The Annual Holiday Shut Down
The Annual Holiday Shutdown is a week-long period during which iTunes Connect shuts down.
This year the shutdown will likely take place around December 22 to December 29 in 2015.
This will result in app rankings being sustained during holidays.
On the flip side, no new features or upgrades can be added, and no bug fixes can be done.
Ways to Make your App Shine this Holiday Season
Save the Date
If you're working on a new app or any new feature, version or re-branding process for existing apps., it needs to launch on time.
The reviewing process for your app must be completed before the Christmas holiday break.
Submit your app updates to App store early enough to be approved, but as close as possible to App Store lockdown to sustain high ranks.
Late November is a good time to submit an app update and get it approved on time.
Get in the Holiday Spirit!
Create a new holiday-themed design for your app! (Santa hats, snowflakes, gingerbread men, holly leaves)
Gaming apps can especially gain a boost with a holiday theme.
Make your customers feel happy by offering Holiday discounts and special offers in your app.
Upgrade
Apps tend to rank higher right after a version update has been released
Upgrade your app for latest versions and devices.
Find unique and cool ways to incorporate Apple Pay & Google Wallet into your app to get more benefits
Promote
Prepare your strategy in advance, set up your marketing priorities, and find a proper ad platform.
A rewarded installs campaign will help reach positive ROI through lower CPI, with an increase in organic traffic.
Ask for existing users to rate the app. According to a survey by Apptentive, a one star shift in rating can increase app downloads by up to 340%.
Exterminate those Bugs
The very purpose of planning for an update during the holiday season is to give users, both existing and the new, the best version of your app
A bug, no matter how small it may be, can affect your reputation, and your users experience.
Remember bugs cannot be fixed till the App Store Freeze is over, so fix bugs as soon as you can before the code freeze.
Generate Buzz
Promote your updated/new app in social networking sites to generate maximum visibility
Grow your social audience using Ad campaigns through platforms like Twitter and Facebook advertising.
Measure the final campaign results, and calculate your ROI to know how successful your marketing efforts have been
Get Featured
Many app review sites compile "Best of" lists at the end of the year. Try to get your app listed on these lists as they help in organic searches and keyword ranking.
Approach app review sites with the right pitch for your app. This will give your app a better chance to reach its audience and boost downloads.