Microsoft Launches its Own Social Network
DCI
Microsoft has launched its own social networking site called 'So.cl' yesterday. So.cl has combined features of social networking, search and media sharing. It is mainly focused as a research tool for students.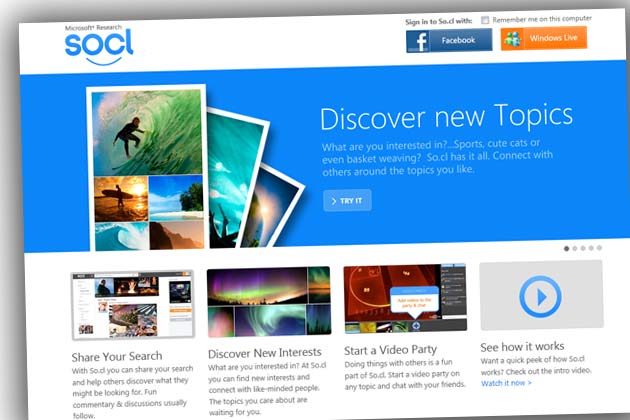 So.cl (pronounced "social") is an "experimental research project" which was developed by Microsoft Research's FUSE Labs for the purpose of learning. Earlier, it was only available to the students of selected universities in the U.S. and now it has been opened for the entire online population.

Microsoft said, "So.cl combines networking and search, to help people find and share interesting web pages in the way students do when they work together. So.cl helps you create rich posts, by assembling montages of visual web content. To encourage interaction and collaboration, So.cl provides rich media sharing, and real time sharing of videos via 'video parties'."
Microsoft calls this social network "an experiment in open search" since the searches will be visible to other so.cl users and to third parties. Users can login with their Facebook or Microsoft Live accounts. Microsoft has also claimed that So.cl will not automatically post users' searches, comments or likes to their Facebook account unless they opt for it.