Microsoft Launches Windows 8
DCI
Windows 8 was officially launched in New York City today by Steven Sinofsky, President of Windows and Windows Live Division at Microsoft.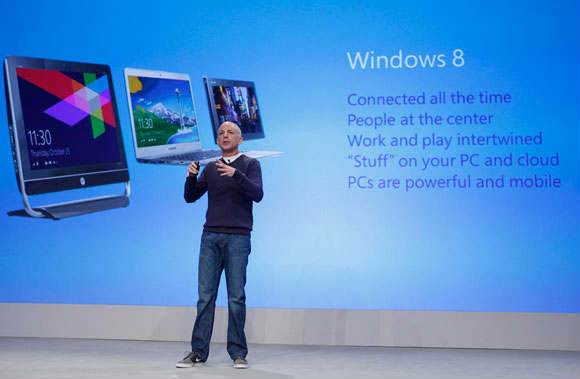 There was an ad countdown for the launch of Windows 8, earlier this month. Windows 8 is packed with a variety of new features. It went through a testing of 1,240,000,000 hours in 190 countries. "No product anywhere receives this kind of testing anywhere in the world," said Steven Sinofsky.
Windows 8 has replaced the Start menu of Windows 7 with the Start screen. The Start screen is a whole new environment with large scrolling tiles, separate full-screen apps, etc., on the touchscreen display. The tile-based environment works very well. The idea of the single Windows operating system is that it can run both on the former mouse-driven version, Intel-based PCs and also on touch controlled tablets, called RT.
Charms is another new feature of Windows 8. It can be used to quickly configure the settings for apps. It offers a set of 5 options, like Start, Search, Share, Devices, and Settings. The Snap multitasking feature, makes it easy to run two apps in Windows 8 side-by-side. The redesigned control panel provides many new options like Personalize, Users, Wireless, Notifications, General, Privacy, Search, and Share. The built-in IE 10 browser also offers faster browsing.
Microsoft's Surface tablet took the center stage at the launch event. Microsoft also hosted the launch of the new Windows Store, which will feature apps of the new Windows 8 and also the existing desktop apps. The store is now available in 231 markets.