Microsoft Started a New Service to Check Browser Security
DCI
Microsoft has launched a website to let users check the security of their web browsers.
Microsoft's new website Your Browser Matters checks a browser to find its performance against phishing attacks and socially engineered malware. As expected this new service crowns Internet Explorer 9 as the most secure browser among the five major players. It gives it a score of 4 out of 4, while Internet Explorer 8 earns 3 out of 4.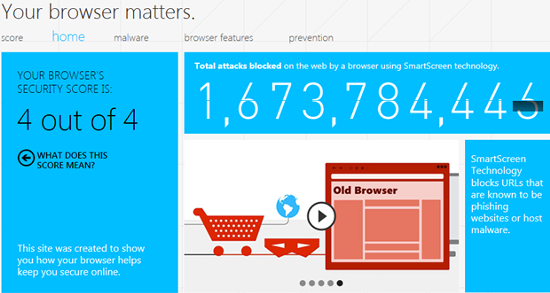 Other major web browsers like Firefox 7 and Chrome 14 receive 2 and 2.5 respectively. Users can know how and why the browser received its grade by clicking on the 'Score' link. Microsoft breaks down its analysis into questions such as "Does the browser help protect you from websites that are known to distribute socially engineered malware?" and "Does the browser have a feature that can help protect you from phishing sites?"
Your Browser Matters doesn't assign any score to the other popular browsers such as Opera and Safari.
Dot Com Infoway is a Web Development company that has developed may popular websites. To know more about our services, visit our Web Development and Web Design pages.