MobileAppDaily Recognizes Dot Com Infoway Among The Top Mobile App Marketing Companies
Alfred
Dot Com Infoway (DCI) is a premier IT firm that has been delivering rich, versatile and intelligent solutions to clients belonging to different industrial verticals. The team of DCI has created quite a reputation for themselves in the global market by offering enterprise solutions that are not just cost-efficient but also innovative in nature.

Some of the fields where Dot Com Infoway shines brightly are Advanced Mobile App Development Services, Web as well as Software Solutions, Mobile App Marketing Internet Marketing. From highly scalable to effortlessly customized digital solutions, dedicated app developers at DCI are always ready to take on any challenge.
Combell, Sanmax, Dorel, Bwired, Forix, and Commdex are some of the major clients of Dot Com Infoway that trust them with their business.
Why MobileAppDaily Chose Dot Com Infoway?
MobileAppDaily being a media portal you can rely on when it comes to providing authentic updates straight from the world of mobile applications. This platform has created a loyal fan base consisting of hundreds and thousands of tech enthusiasts, mobile app users and people who are interested in keeping up with the latest technology trends.
Since the year 2000, Dot Com Infoway has showcased constant growth by delivering world-class mobile as well as web solutions to startups, SMEs and even Fortune 500 companies. With an unbeatable record of 100% customer satisfaction, MobileAppDaily has decided to feature DCI on its exclusive list of Top Mobile App Marketing Companies.
---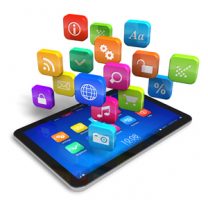 Are You Looking For Mobile App Promotion Service?
An award-winning mobile app marketing company that offers 360° marketing solutions for mobile apps & games in iOS and Android Platforms. Our mobile app marketing service team is well experienced to make your app reach billions of users.
---
Mobile app reviews on Android/iOS applications along with exclusive annual reports of app development companies such as Blockchain app development companies, Flutter app development companies, React Native app development companies, etc are two of the primary services offered by this platform. So if you are someone who is keen on exploring the mobile app industry then this portal can be your reliable source.