NASSCOM has Projected Game Revenue in the Indian market to Grow 87% by 2020: The Indian Game Market – Series 3
DCI
India's number 5 position in the mobile gaming industry has come as a result of increased smartphone use as well as readily available prepaid options to pay for gaming. This boost in the industry has created many popular trends in gaming, with casual games leading the pack in trending game genres and thus more opportunity for young app developers to shine in the industry. With approximately 20,000 games available, and puzzles and arcade games following closely behind, the mobile gaming phenomenon is quickly revealing what games are popular in India. With casual games taking a 33% lions share, and arcade and action games coming in at 28% and 25% respectively, what's hot in mobile gaming has continued its ascension with growing trends translating into increased revenues.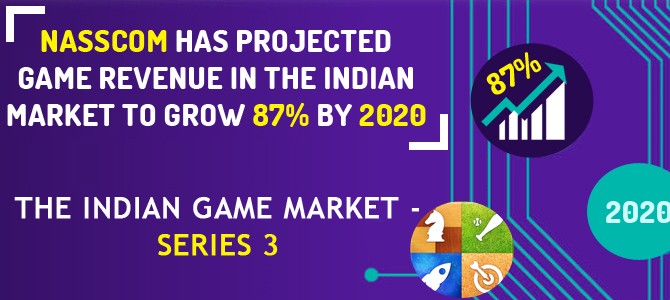 Action Game Downloads Lead the Way
When it comes to downloads, according to Priori Data, the most popular genre among users was racing, from April 2015 to March 2016. Racing lead with over $170 million downloads. The action games came in second with $163 million downloads, followed by $156 million for casual. In fact, game downloads in India more than doubled between 2014 and 2016, with the greatest number of downloads coming from Google Play instead of iOS. In fact, Google play received 13 times more downloads than iOS. In addition, app store downloads rose 80% during this same period.
More Time Playing Strategy Games Results in Increased Revenue
The time that Indian users spend playing strategy games has increased 170%. Although strategy games don't make up the most significant mobile downloads, revenues and time spent gaming continue to grow. This aggressive growth spurt took place between 2015 and 2016 and the link between increased strategy gaming has translated into a rise in revenue as a result. This same growth was noted in social card games which experienced a 190% increase from 2015 to 2016, with a 120% time increase in game playing. Other genres have continued to gain ground as well, with action games reporting a 130% increase in revenue and casual games reporting an increase of 110%.
---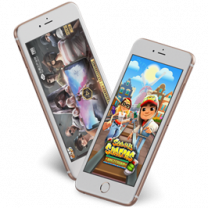 Feeling intimidated by the sea of game apps posted in the top app stores?
In this highly competitive game market,making a splash at launch is just the first level. As a developer or business owner, you should understand the value of best marketing strategy to take your game further.
---
Single Player Games are Most Popular with Indian Users
The popularity of single player games among Indian users has emerged as another growing trend. The growth in this trend may be attributed to the fact that single player games don't require any other participants and as a result can be played at any time, and often without an internet connection. Another perk is the fact that they don't require a significant data stream.
Conclusion
The mobile gaming industry continues to grow significantly in India, with casual games trending heavily. Several genres have experienced substantial growth in both revenue, downloads, and the average user gaming time. Racing games were the most popular, with over $170 million in downloads. Increased gaming time also resulted in higher revenues, particularly in the genre of strategy games which experienced a 170% increase. Another emerging trend was the increased popularity of single player games among Indian users. Ongoing data continues to uncover growing trends in the Indian mobile gaming market. This is perhaps why App-Annie NASSCOM has projected game revenue in the Indian market to grow 87% by 2020.