New AdWords Reports in Google Analytics: Impressive as usual
DCI
Google has announced new AdWords report sets in Google Analytics that will help view more specific and detailed reports. These new reports can offer more insight on what happens after a visitor clicks on your ads. The previous report sets, inspite of their advanced and detailed reporting do not offer this particular facility. But the new reports provide additional data, like actual search query etc. which were not available in Analytics previously.
In the upcoming weeks, Google will be making a new set of AdWords reports usable in Google Analytics account which will be implemented under the 'Traffic Sources' section of your Analytics account. New reports will help you establish your Google AdWords traffic by the actual search term, keyword match types, network distribution and many other attributes. To boost performance, Google has also included day parting, placements, and destination URLs reports.
With the help of these new reports, you can see user clicks on exactly matched ads for any key phrase, ad group, or campaign in your account. It will also allow you to see how many pages that ad group visited and the average time spent on the website. If you use the funnel reports in Google Analytics, that will allow you to see the detailed activity of users and the point at which tend to diminish when trying to make a conversion (purchase, sign up etc.,)
To make this report available in your Analytics account, you should link Google Analytics into your AdWords account and enable auto-tagging. This is easy to set up. To start this, you can click on the Reporting tab followed by Google Analytics in your AdWords account. Here is the way to do this.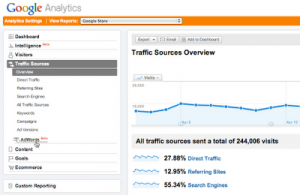 Google is in the process of rolling out this new set of AdWords report features successively and over the next few weeks it will be available for all accounts. If you are able to find these changes right now on your account, you are indeed lucky!
Check out this short video here to see other ways you can use the new reports.