New Google Earth App for iOS: Updates & Its Important Features
DCI
Google earth has recently received a major update that consists of a combination of updated features to its all new interactive mapping app. If you were already a user of the earlier version of this app, you'll be happy to learn more about its new feature. It just recently introduced a 64-bit app support that allows it to run on iOS 11 devices.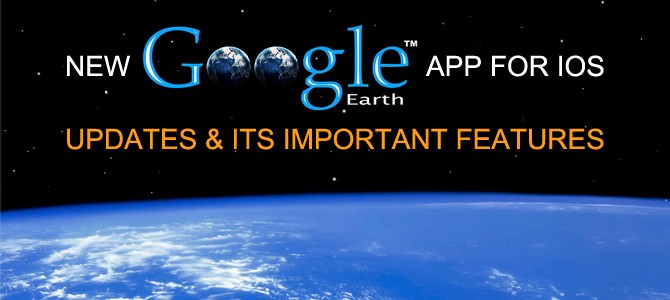 However, the thing that users of its previous versions should be aware of is that Apple made an announcement that after the iOS 11 has been launched to the public that it will no longer continue to provide support for the 32-bit app. Further, it will only allow 64-bit apps and relevant app updates to be submitted into the App Store.
Google's Position on New Updates
Upon the heels of Apple's announcement, Google positioned its new and updated app as a means for its users to find new ways to discover brand new travel destinations. The upgrades will allow users to be able to explore additional locations on a worldwide, global basis all with the use of a new 3-D button that is featured at the top of the new app.
The New 3-D Button
The new 3-D button allows the new Google maps to become refocused. This takes place when a circle begins to form around the city that has been chosen by its user. This function is very similar to the flyover function that takes place in Apple Maps. So some users may already be somewhat familiar with it. Each of the newest updates that the iOS will be receiving has been debuted back in April on the Android device.
How Users Use this App for Travel Ideas
Many of Google Earth users turn to this app to create travel ideas. It has become a part of their travel logistics as they turn to it for their many ongoing travel plans.
As of today, Google Earth users can begin downloading the Google Earth app. They can also take advantage of one of the newest features referred to as the voyager. This feature displays interactive stories that have that have taken place from all around the globe which provides information that is very useful to its users. This includes information such as various landmarks, that have been conveniently broken down into different categories. They include things such as culture, the editor's picks, travel, history, education, and nature. This app has been relied upon by many and if you haven't tried it to make travel arrangements, you may want to consider giving it a try today.
Additional Features
Another great thing about this app is that if users want to discover a new randomly selected destination anywhere on the planet, there is a feature referred to as a dice rolling button. It allows new locations to surface, which allows users to read about whenever it is pressed.
Also included is an in-app screenshot, known as a "Postcard," it allows users to take pictures of locations as they explore new places by using the all new 3D mode.
This new app is now available to download from the iOS App Store for free. Download yours today.