Nielsen Says Android Outnumbered iPhone 2 to 1
DCI
According to Nielsen Android has outsold Apple's iOS two to one in the last three months.
Popular marketing and advertising research company Nielsen has released its market study on usage share of mobile operating systems based on the samples collected from 25,000 users. According to this new study, 56% of people who bought a smartphone in the last three months purchased an Android device, while 28% opted for iPhones. Eighteen percent of respondents have a BlackBerry, but only 9% bought one in the last three months.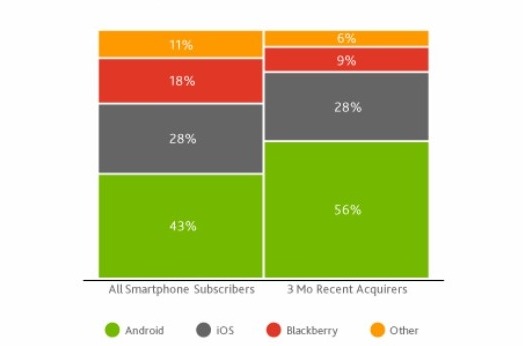 Nielsen's study has also suggested a rise in smartphone penetration. It said, "While 43 percent of all mobile subscribers in the U.S. had a smartphone as of August, 58 percent of those who got a new device in the last 3 months chose a smartphone over a feature phone."
iPhone's market share is expected rise quickly after the launch of iPhone 5 on October.
Dot Com Infoway is an Android application development company with many popular apps to its credit. To know more about our services, visit our Android app development page and Mobile app development page.