The Future of Mobile Wallets: Opportunities and Challenges for the Wallet Integration
Alfred
Mobile phones were only used to make calls and reply to texts. No one could have imagined using a phone to switch on the lights or unlock the door. Better yet, very few consumers could envision using a phone to take pictures, record a video and watch their favorite movie. It clear that phones are used for literally everything keys, TVs and camera. If so why should we hesitate to replace traditional wallets, debit and credit card for mobile wallets?
It is clear that mobile wallets are slowly making a mark as a form of payment method, but cash still remains to be an imperative necessity for consumers live. Experts from different sectors including network operations, banks, express that, mobile payments will quickly replace traditional wallets over time. Recent studies show that consumers' awareness has increased mobile payment usage.
Successful mobile app payment, and wallet integration services include Alipay, Wechat pay, Apple pay, Amazon pay and Android pay. Some of the factors that have made them successful include, making the mobile payment system secure, making it familiar with the consumers and enabling financial transactions and retail purchases. There still challenges that face mobile wallet integration like consumers perception.

Below are more opportunities and challenges facing mobile wallet integration
Opportunities
Rural Areas
Rural areas always have a huge impact on the overall economic development of any country. In the same remote are you find that most people do not have bank accounts. By using mobile wallets people can conveniently create bank accounts without physically going to a bank branch. Mobile wallets also present transparency in a business transaction in the rural area. The increasing number of mobile and internet users in the rural area will pave ways for the use of better digital payment solution over time.
Payments and Loyalty
Most households in the United States have joined more than 15 consumers' loyalty program but only participate in less than eight. Research shows that most consumers are reluctant in using a consumer loyalty program if it is not accompanied by a Smartphone app. A total of 69% of people reported that they continuously use they loyalty card if it was on their phone.
The secret to mobile payment usage is loyalty, not payment. It is clear that consumers engage more with brands that they are loyal to. Companies can gain consumer engagement by offering discount and rewards within mobile wallets.
Increase in Number of Smartphone Owners
Not long ago surveys were carried out to show the growth of Smartphone ownership. Now, 4 in 10 people own a Smartphone. The number is still growing as more people are anticipated to be owners of a Smartphone. With the high increase in Smartphone owners, so is the number of mobile payment users. Consumers can only use a Smartphone to make mobile payments hence this cannot happen if they do not have one.
Increased Interest in Mobile Payment among Smartphone Owners
More people who own Smartphones understand and are interested in cashless payment than before. This is evident in the younger and the more tech-savvy population. The Federal Reserve survey pointed out that 3 in 10 people are open to using cashless payment if the opportunity arises.
More people in today's world have shopping apps on their phones. They check prices, research items, purchase goods, and check receipts and coupons. This shows that price indications and detailed information increase the gratification of mobile-oriented consumers. Most of this consumer would be interested to use their mobile wallets instead of credit cards.
Mobile Banking and Inventive Mobile Payment Application
More banks are now offering mobile banking services to their customers. A huge number of mobile owner use this service to transfer money from one account to the other, check their balance and recent transaction. This service acts as a catalyst to increase the use of cashless payment. Financial institutions have also come up with inventive applications for mobile transfer.
Mobile remote deposit capture is one of the applications that is steadily gaining popularity. Through the application, consumers can easily deposit their checks by taking a photo of the check and sending it electronically to the bank. This promotes efficiency and convenience for the bank and the consumer. Satisfied mobile banking consumers are more likely to adapt to mobile wallets than other.
---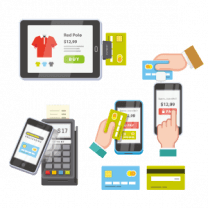 Create a Mobile Wallet for Your Business Within Weeks!
Our expert team in Dot Com Infoway team can help you build sustainable & scalable wallet solutions.
---
Challenges
Regulatory Compliance
All mobile payment services need to abide by the legal requirements. This entails both the financial and consumer-based regulations. This can be a problem for new players who want to invest in a new market.
Fraud Risk
This is one of the biggest reasons why most consumers are reluctant to adapt to mobile wallets. Contactless payment presents huge unknown risk and fraud like leaked data, hacking, undetected malware, e-wallet vulnerabilities. Making the technology secure for all consumer will aid in stopping any potential financial breaches.
Low Perception
Consumers still perceive that mobile wallets integration do not solve anything. They are still not informed of the benefits of using mobile wallets over using cash or credit cards. That is why most of them still use credit cards and debit cards for online payment and buying expensive items.
Low Trust in Mobile Wallets
Consumers say that the idea of using mobile wallet integration is good but not possible. They feel that they give up a lot of their control when using mobile wallets. A research carried out by YouGov shows that 43% of mobile users don't trust mobile wallets, 38% fear that if their phones get lost they might not be able to make any payment.
Another research related carried out by Experian concluded that 55% of consumers feel safer using credit cards. A survey carried out by Auriemma reported that consumers who use mobile wallet integration will not recommend it to their friends or family.
No Rewards
Unlike cards and cash-back programs, they are no rewards offered when using mobile wallets. People using credits and cash have the opportunity of receiving discounts, rewards, and coupons. Financial marketers seeking to boost the usage of mobile wallets should take this as an opportunity to get more consumers.
Conclusion
The number of internet user is growing rapidly every year. It is estimated that there will be 650 million internet users in 2020. More digitally savvy customers are open to trying out new innovation and prefer to use digital money. In the recent past, many tech companies have come up which will help mobile wallets advance to be a complete financial management tool. There is a lot to be done to make digital payment a reality mobile. Many mobile app development agencies assists to develop digital payment apps. The demand for an easy payment method will continue to grow and it will boost the use of mobile wallets.
Related Articles: