Colors, Fun, Frolic: Rainbow Day at DCI
DCI
It rained colors, fun and frolic at Dot Com Infoway Madurai office last Thursday. It was Rainbow Day and all the employees were dressed in vibrant, striking hues. Everyone sported their best costumes so much so the Human Resources team was completely perplexed when it came to choosing the best team.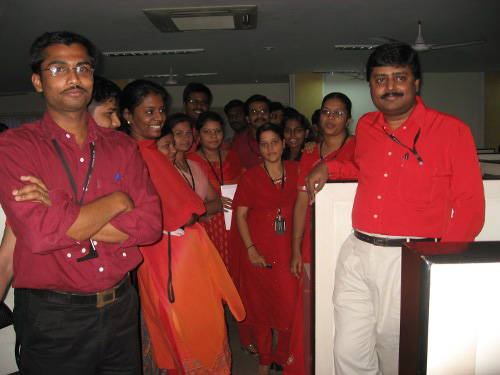 A bit of history for the uninitiated: Rainbow Day is a breezy day celebrated at DCI. The HR team of the company chooses some 6 to 7 unusual, visually-electrifying colors for the day every month. Employees wear costumes in the colors chosen for the month and the color/team which is the most stunning to look at wins the coveted cash prize.
July's color palette was an exuberant one that contained every thing from glaring Fluorescent green, extra-sunny Lemon Yellow, pinkish Cotton Candy Rose to yummy-yummy Cherry Red, scintillating Copper Sulphate Blue and brilliant, sparking Orange.
With such a bold, unnatural color palette, everyone opined that this month's Rainbow Day may not have many takers. But, guess what, it was just the opposite! This month witnessed a never-before gorgeous parade of colors. The Reds competed the Blues, the Yellows damasked the Oranges and the Greens outshone every thing Pink.
When the judgment hour arrived, teams were formed based on colors and every team was judged based on the intensity and uniformity of the colorful costumes worn by the team members.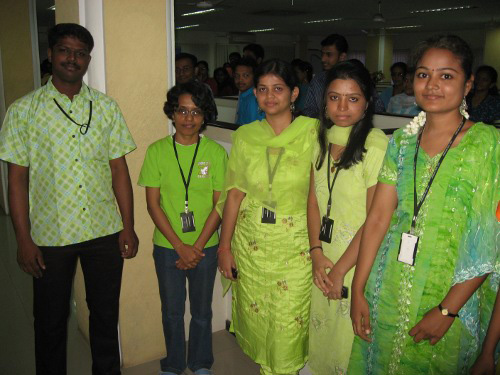 The Blues appeared the best considering their number. The Reds had numbers but lacked uniformity. The Pinks were far better with both numbers and various tones of the color. The Oranges and Yellows were no match for the Pinks. Yet, the Greens stood out! Though small in number, most of the Green team was dressed in the expected, glaring Fluorescent green color. The uniformity and intensity of their colorful costumes was much appreciated by the judges. To top it all, it was a color that was rarely used in day to day couture. All this won the Green team the cash prize.
On the whole, it was a fun-filled, joyous day at DCI. A far cry from monotonous routines, the Rainbow Day kindled fun and brightened up our corporate air with a dash of colors!