Reasons to pick Google Android phones
DCI
The Open Handset alliance, a conglomerate led by Google with nearly 50 telecommunications and Information technology companies, made an impressive mark with their flagship OS, the Android.  One of its members, the Motorola corporation, recently unveiled its first Android device, named "Droid". Motorola has planned to unleash more Android devices, incorporating Android to all its other smartphones. Raving reviews about Android Droid say that it is the new iPhone killer after Nokia 97, Nokia 5800 and the Omnia devices.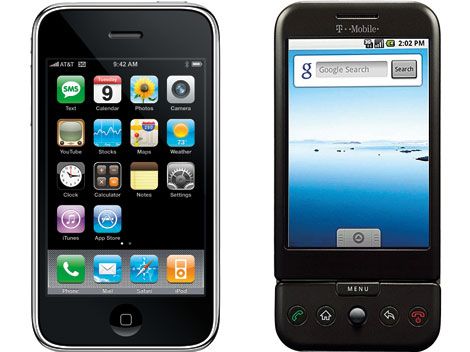 Droid Overview: Like the iPhone, Droid runs on the same Texas instrument's OMAP processors but the difference is, unlike the iPhone, it can do multi-tasks. It has a glossy 3.7-inch touch-screen with 16 million color depth, 512mb RAM, a QWERTY keypad, a standard mini USB, a 8GB MicroSD card, supports CDMA, GSM, 3G and what not? Almost everything better than its rival, the iPhone – swear some critics.
The first stuff would be the slider QWERTY which is the ultimate choice for professionals who love mobile-computing.
Droid's mini USB is a standard connector, available everywhere, unlike the iPhone's proprietary 30 pin connector.
The availability of external memory slot (MicroSD) is a significant aspect that will be much appreciated by people who want to back up their important data and transfer the third party applications to other devices. iPhone lacks this facility to get the data off the phone, except for email, which is also restricted from transferring  sensitive data. The iTunes backs up only  Apple's app data and contacts.
A huge difference between Android and iPhone can be summed up in their multi-tasking facilities. The iPhone is absolutely a single-task handset, while the Android beats it in this segment. When making a call or attending a call, if an iPhone user wants to refer a note, he has to hang the call by getting out of the telephony interface and has to initiate "Take a note" app. But with the Android, the same user can perform several different tasks at a time without his phone slowing down.
The next and best thing in Android is its advanced memory management or what is termed as the  "automatic garbage collection."  It takes care of the application overload crashes and memory releasing tasks. Unlike iPhone, it can release the 'garbages' leftover in the access memory. But in iPhones, due to the lack of this advantage, a running program will eventually quit, due to the shortage of memory.
Android is a feature rich OS that enables a programmer to write very sophisticated business utilities or even a continuous-monitoring application. Undoubtedly, the iPhone OS is a fascinating entertainment device with intriguing slider interface and much more. But the Android platform is predicted to deliver more than entertainment in the future and has the potentiality to take over other prominent operating systems, according to some experts. However, there is still not an "one-fits-all" phone. For now, Android devices seem to compete well with iPhone.
Learn more about Dot Com Infoway's Android Application Development Services