Social Networking War: Orkut vs. Facebook
DCI
Search giant Google has recently released a new version of its social networking community, Orkut. The new version, said to plug all the bugs, remove all complications and irritable features of Orkut, sports a challenge to its arch-rival and competitor, Facebook.
Can the new version of Orkut beat Facebook? This question boggles the minds of a lot of Facebookers.  Doubts and questions apart, Google's new version is sleek, trendy and upbeat enough to end the solo-party of Facebook in the social networking domain. If you're an Internet geek, you will definitely know the influence and impact Orkut had over other social networking sites. With the arduous efforts of the Orkut team, Google has finally come up with the new clean and sensational version of Orkut,  a version vibrant enough to make people look up to Orkut once again.
Besides the new layout which is easy-to-use, the Orkut team has introduced several other new features into the social networking site. If you are up for a thrilling ride, come on, let's have a look at the exciting new features. Before that, one important reminder. The new version of Orkut can be accessed only through invites.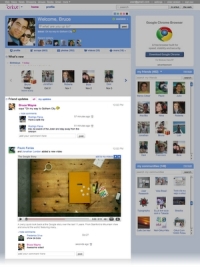 Fewer Pages, Easy navigation – The Home Page has become all-important. You can catch up with all the actions in the homepage. Be it a chat, video, status message or comment for your photo or status update, everything is right there on your homepage.
Faster  Page loads –  No longer will you have to wait minutes for pages to load. Now Orkut brings you faster browsing experience. The GWT interface helps you wait less and interact more.
Clean interface – When it comes to the interface, the new version has got a rich look. Yes, easy-to-access notifications, friend suggestions, tab concept, one-touch menu access. In brief, everything is user-friendly.
All new scrap – Orkut has got a feature similar to status update in Facebook. If you want to comment on an update made by your friend, you no longer need to jump to friend's profile to leave a scrap. You can directly post messages from your homepage. When you see your friends post a message, you can leave your comments then and there.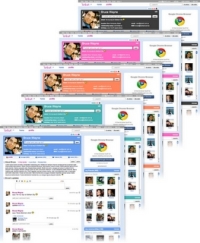 Flexible personalization – It's your thing. When it comes to personalization, the new version has got options to change the colors of your homepage and profile page. You can now customize the 'about me' section which exhibits the true you.
Photos and Videos – Bulk uploads. Now it's possible on Orkut. Now it's three times faster uploads. Photo sharing and editing can be done in no time. Face-to-face video conversation is easy in the new version. Facebook lags in this feature. 'Actions' help you with audio, video and group chats.
Promote –  A new way of promotion. Orkut Promote allows you to create online flyers to  market any of your services to your friends. Content sharing is encouraged and made easy through this Promote feature. Also you can track the performance of your promotion with the help of the metrics tab.
With this new version, Orkut is back with a bang to compete with other social networking sites. From now on, it's going to be a tough social networking war between Orkut and its competitors, especially Facebook.