Study: Apple Apps Crash More Than Android Apps
DCI
According to a recent report released by the mobile OS crash analysis firm Crittercism, iOS apps tend to crash more often than Android apps.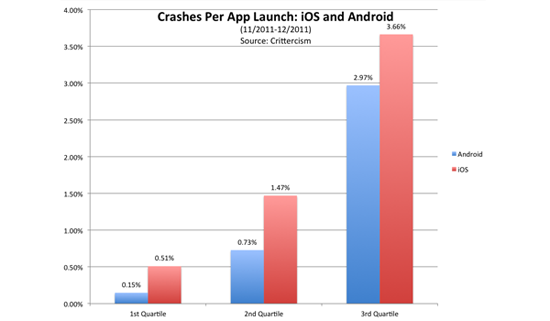 The report was based on the analysis of more than 214 million different app launches during the months of November and December 2011 and it shows that iOS apps crashed 162 million times and Android apps, on the other hand, crashed only 52 million times. This implies that iOS apps crashed three times as much as the Android apps.
Crittercism commented that the crash of iOS apps is mainly due to the upgradation of Apple's operating system iOS 5.0 to a newer version iOS 5.0.1. It claimed that there may be some compatibility issues that might have occurred with the upgradation.
Crittercism analyzed apps under three categories. Under the 'first quartile of apps', Android users had 0.15% of app crashes as compared to Apple's 0.51%. Under the 'second quartile of apps', Android's crashes were 0.73% and Apple's crashes were 1.47%. Under the 'third quartile of apps', Android app crashes extended to 2.97% whereas Apple's were 3.66%
Dot Com Infoway is an Android application development company with many popular apps to its credit. To know more about our services, visit our Android app development page and Mobile app development page.