Survey Finds Sunday the Best for Mobile App Launch
DCI
According to mobile analytics service Mobilewalla research, Sunday is the best day to launch a mobile app.
This study finds 42% of iOS apps released on Sunday made it onto the top 240, while 11% of Android apps did the same. However, developers cannot choose a favorite day for the launch of iOS apps as it is affected by the iTunes review cycle. For launching iOS apps, Thursdays were found to be the worst and for Android apps, Fridays were the worst.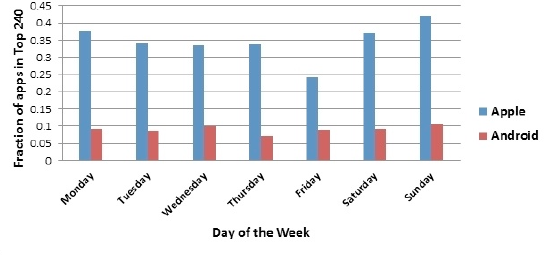 Mobilewalla's report also says that an app on the App Store is four times more likely to be discovered than an app on the Android Market. While speaking about this, Anindya Datta, Ph.D., founder and chairman of Mobilewalla explains, "Apple users discover apps more conveniently than Android users. And while it is impossible to identify exact causes for this pattern, users may find it easier to browse items in the relatively low number of apps launched over the weekend."
A couple of weeks back, the company reported that the app count had crossed 985,000 across all four platforms and was growing at an average of 2,000 apps per day.
Dot Com Infoway is an iPhone app development and marketing company with many popular apps to its credit. To know more about our services, visit our iPhone app development page and Mobile apps development page.